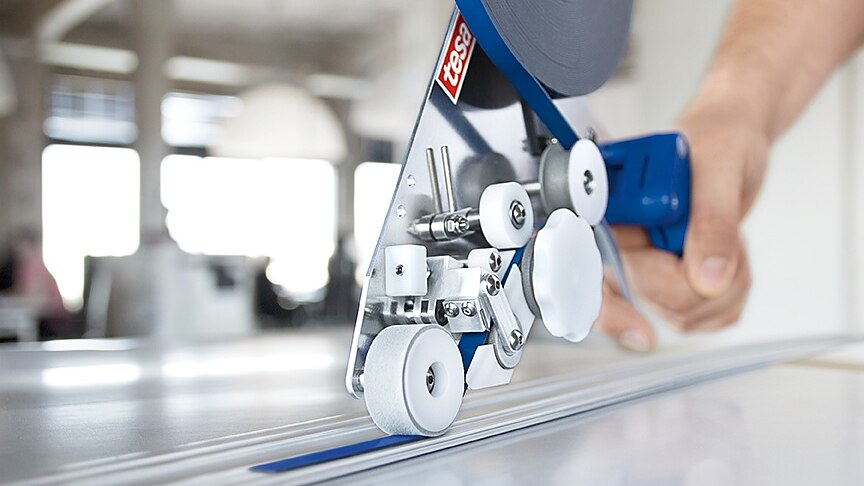 How to Select the Right Dispenser System
An interview with one of our experts.
---
---
The professional use of adhesive tapes requires processing equipment that is designed specifically for the workplace. This improves handling and efficiency and thus helps make full use of the tapes' performance potential. We interviewed Ulrich Otten, Application Process Engineer to provide some key areas to consider when selecting a dispensing solution.
Mr. Otten, your customers want more than just adhesive tape?
Ulrich Otten: "Of course! Just consider the well-known tesafilm® tape. It is always associated with a practical dispenser. This is the only way to use it perfectly. And what is true for private households and offices is even more true for industrial applications. Here it is important for the employee to be able to apply the respective adhesive tape ergonomically and effectively. This improves handling, efficiency, and ultimately quality."
What criteria do customers base their selections on?
Ulrich Otten: "In the case of manual dispensers, for example, ergonomics and making work easier are clearly the most important factors. If an employee uses adhesive tape over an entire workday, they should be able to do so without fatigue. This means that the handle must be ergonomically designed, the weight of the dispenser must be correct, the center of gravity must be balanced, and the amount of force required does not strain the wrist or muscles. Overall, this leads to significant time and cost savings."
Do technical aspects play a role in the selection of the application device?
Ulrich Otten: "Yes, of course. These are aspects that apply to all application devices, like the ability to quickly change the tape roll or having a rugged design. And of course it must be safe to use – beginning with the ability to easily cut the tape with a dispenser to minimize the risk of injury."
You don't just advise customers – you also develop solutions?
Ulrich Otten: "That always depends on the individual case. My duties range from advising customers on the use of standard devices to developing customized application solutions. This is always carried out together with our outside sales team, our research and development department and of course, in close collaboration with our customers and their employees."
Manual or automatic operation – what does the future hold?
Ulrich Otten: "It goes without saying that we continue to see strong demand for classic dispensing and application devices, especially from the skilled trades and at manual workstations. But the percentage of automatic and semiautomatic systems is growing. In many cases this applies to automatic dispensing tools – regardless of whether standard or varied lengths are required in a defined cycle. Specifically in industrial production, fully automatic equipment with adhesive tape is one of the technologies we support."
Can you give us examples of equipment specifically used in the railway sector?
Ulrich Otten: "Sure. Our new dispenser for fine-line tapes has received a lot of positive feedback. This dispenser makes it possible to easily apply special adhesive tapes, which are commonly used for two-color coating. Another example is a handheld device that is used by railway repair companies to bond insulations in trains. This device is used to apply an aluminum-coated adhesive tape precisely to the seams of the insulation."
The chicken or the egg? The dispenser or the adhesive tape? Which comes first?
Ulrich Otten: "From the customer's point of view, the answer is clearly the tape. It has to satisfy the specific technical requirements of the application. Only then can you begin the process of selecting the right application device. In doing so, the type and width of the adhesive tape as well as the location of use define clear boundaries for the selection of a suitable device. There are numerous standard devices to choose from, all of which can be found in our folder. And there's always the option of working out an individual solution together with the customer." 
Ulrich Otten has worked for our company since 1986. After working in a number of departments within the company – including safety products and adhesive packaging tapes – the application technician and chemical engineer then specialized in the field of processing equipment. Here the father of three and enthusiastic sailor now advises customers and our outside sales team throughout all of Germany.