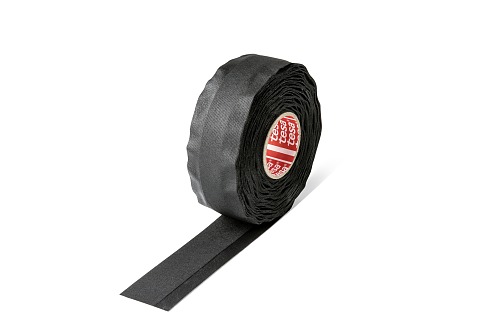 ---
---
Product description
tesa
Sleeve
®
51026 PV5 is a PET cloth Sleeve coated at the edges with an acrylic adhesive for spiral application.
Major Features:
High temperature resistance 150°C/3000h
High flexibility
Exceptionally high abrasion resistance
Color: Black
Main applications
tesa
Sleeve
®
51026 PV5 is designed for the engine compartment, providing superior abrasion protection and flexibilty.
It combines the well known spiral application of a tape with the flexibility of a sleeve
Technical properties
Temperature resistance min.
Temperature resistance (3000h)
Abrasion resistance (10mm mandrel)
Abrasion resistance (5mm mandrel)
Flame resistance as composite
Additional Info
Standard widths: 45, 59 mm
Standard lengths: 10, 15 m
Most combinations of width and length are possible
Standard core diameter: 38 mm
tesa® products prove their impressive quality day in, day out in demanding conditions and are regularly subjected to strict controls. All technical information and data above mentioned are provided to the best of our knowledge on the basis of our practical experience. They shall be considered as average values and are not appropriate for a specification. Therefore tesa SE can make no warranties, expressed or implied, including, but not limited to any implied warranty of merchantability or fitness for a particular purpose. The user is responsible for determining whether the tesa® product is fit for a particular purpose and suitable for the user's method of application. If you are in any doubt, our technical staff will be glad to support you.