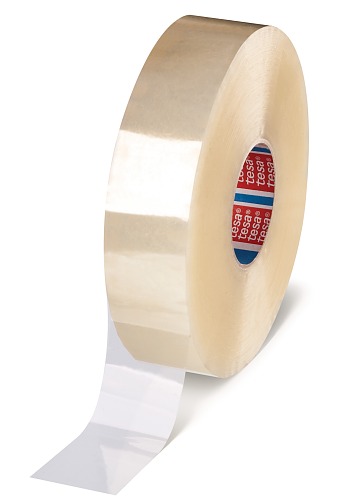 ---
---
Product description
tesa
®
64034 is based on a PP-backing coated with a special water based acrylic adhesive. The product is especially developed for the automatic carton sealing application.
The unique water based acrylic adhesive recipe shows high shear strength properties - highly superior to other water based acrylic adhesives. This high shear strength leads to an outstanding box closure performance even when closing boxes made of recycled cardboard have to be closed.
tesa
®
64034 can be used on all common carton sealing machines.
As typical for water based acrylic tapes also
tesa
®
64034 has a high age and temperature resistance for long term storage.
As the product is chlorine free and based on derivatives of mineral oil only, the disposal by heat treatment is environmental friendly.
The process of cardboard waste recycling will be not disrupted as confirmed by leading recycling companies and paper mills.
Main applications
Automatic sealing of light and medium-range weight cartons.
Additional Info
The PV1-version of the product is printable. It has easy but noisy unwinding.
tesa® products prove their impressive quality day in, day out in demanding conditions and are regularly subjected to strict controls. All technical information and data above mentioned are provided to the best of our knowledge on the basis of our practical experience. They shall be considered as average values and are not appropriate for a specification. Therefore tesa SE can make no warranties, expressed or implied, including, but not limited to any implied warranty of merchantability or fitness for a particular purpose. The user is responsible for determining whether the tesa® product is fit for a particular purpose and suitable for the user's method of application. If you are in any doubt, our technical staff will be glad to support you.