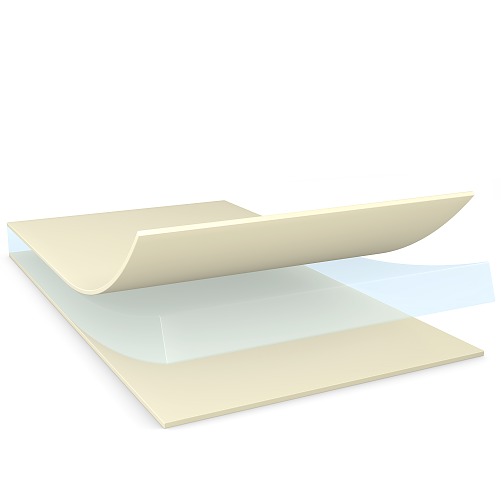 ---
---
Product description
tesa
®
61562 is a transparent, thin transfer tape that ensures good encapsulation for oxygen and especially water vapour sensitive devices. This is realized by the specialty pressure sensitive adhesive (PSA). This special adhesive ensures very good device stability even at high temperature.
tesa
®
61562 does not require curing and therefore enables fast processing.
Consequently it does not exhibit cure shrinkage and thus provides permanent adhesion between different device layers and good encapsulation for sensitive parts. The product enables the design of flexible devices.
tesa
®
61562 features especially:
High barrier against oxygen and water vapor
High temperature stability
Bubble-free performance at demanding test conditions
on rigid and flexible barrier substrates
Main applications
Encapsulation of sensitive organic and printed electronic devices
Suitable for designs which are exposed to high temperature and humidity

Technical properties
Thickness of liner (easy release)
Thickness of liner (tight release)
Transmittance (380 - 780nm) >
Adhesion properties
Adhesion to Glass (initial)
Adhesion to PET (initial)
Adhesion to PMMA (initial)
tesa® products prove their impressive quality day in, day out in demanding conditions and are regularly subjected to strict controls. All technical information and data above mentioned are provided to the best of our knowledge on the basis of our practical experience. They shall be considered as average values and are not appropriate for a specification. Therefore tesa SE can make no warranties, expressed or implied, including, but not limited to any implied warranty of merchantability or fitness for a particular purpose. The user is responsible for determining whether the tesa® product is fit for a particular purpose and suitable for the user's method of application. If you are in any doubt, our technical staff will be glad to support you.