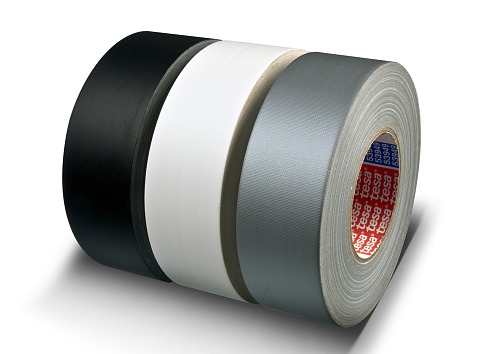 ---
---
Product description
tesa
®
53949 PV2 is a matt gaffer tape specially designed for the arts and entertainment industry. It consists of a PE coated 80 mesh woven PET fabric backing coated with a pressure sensitive natural rubber adhesive.
tesa
®
53949 PV2 is the ideal solution for a wide range of applications whenever a non-reflective surface is important.
Features:
light-absorbing, non-reflective
good adhesion, even on rough surfaces
abrasion resistant
water repellent
conformable
easy to remove
available in matt black, matt white, and matt silver
Main applications
On-stage/back-stage jobs in theatre, opera, cinema and music halls
Fixing of cables on carpets, walls etc.
Covering of shiny and glossy surfaces
Fixing of cable links
Sealing of joints
Floor marking and fixing
Technical properties
Temperature resistance (30 min)
Additional Info
Recommendation: please conduct a test on the application surface before using the product.

Complies with LV 312-1 Dialectric strength.
tesa® products prove their impressive quality day in, day out in demanding conditions and are regularly subjected to strict controls. All technical information and data above mentioned are provided to the best of our knowledge on the basis of our practical experience. They shall be considered as average values and are not appropriate for a specification. Therefore tesa SE can make no warranties, expressed or implied, including, but not limited to any implied warranty of merchantability or fitness for a particular purpose. The user is responsible for determining whether the tesa® product is fit for a particular purpose and suitable for the user's method of application. If you are in any doubt, our technical staff will be glad to support you.