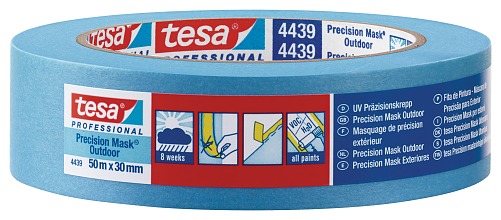 ---
---
Product description
tesa
®
4439 Precision Mask
®
Outdoor consists of an extra-thin and strong paper backing coated with an acrylic adhesive.
The combination of the highly equipped backing material and the outstanding special adhesive formulation allows easy removability up to 8 weeks after application outdoors. This enables multiple working processes in only one covering process.
Main applications
This tape is suited for almost all outdoor paint works.
tesa
®
4439 Precision Mask
®
Outdoor is applicable with all common kinds of paints and lacquers and fits even for the masking of surfaces during light spatula works.
It is especially designed to suit for a variety of outdoor applications on different kinds of surfaces. The thin but resistant backing material is highly conformable and leads to flat and precise paint edges.
Rating properties
Suitable for sensitive surfaces
Suitable for rough surfaces
Additional Info
The application of an adhesive tape on weathered surfaces may lead to residues during the de-masking. Thus before using an adhesive tape on a weathered surface we recommend to make a trial application for up to 24 hours.
tesa® products prove their impressive quality day in, day out in demanding conditions and are regularly subjected to strict controls. All technical information and data above mentioned are provided to the best of our knowledge on the basis of our practical experience. They shall be considered as average values and are not appropriate for a specification. Therefore tesa SE can make no warranties, expressed or implied, including, but not limited to any implied warranty of merchantability or fitness for a particular purpose. The user is responsible for determining whether the tesa® product is fit for a particular purpose and suitable for the user's method of application. If you are in any doubt, our technical staff will be glad to support you.