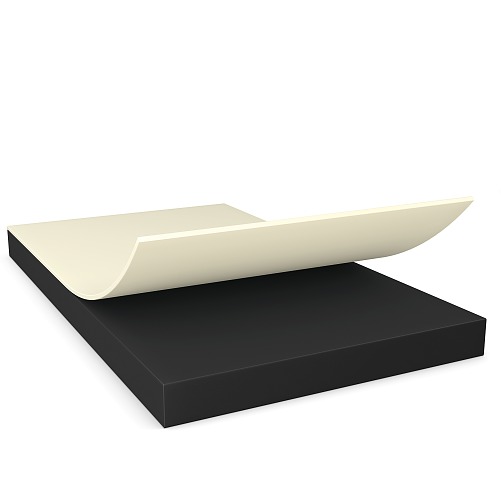 ---
---
Product description
tesa
®
Low Temperature Cross-linkable (LTC) 58662 is a reactive mounting tape activated at moderate temperatures. This black double-sided tape has no backing. It is protected by a PE coated paper liner.
tesa
®
LTC 58662 is free of halogen and compliant with current RoHS directive.
At room temperature
tesa
®
LTC 58662 is not tacky. It is activated by moderate heat and pressure applied during the assembly process.
Special features:
Extremely high bonding performance and reliability, even on thin design gaps
Activated at low temperature and pressure
Excellent shock resistance
Chemical resistant
Strong reliability performance especially on metals
Very low oozing ratio
Main applications
tesa
®
LTC is especially recommended for structural bonding of various substrates inside electronic devices:
Structural bonding of metals
Mounting of sensitive electronic components
Technical properties
Type of adhesive
crosslinkable polyurethane
Bonding strength (push-out)
Additional Info
Technical recommendations:
tesa
®
LTC is not self-adhesive. It is activated by heat and pressure over a certain interval. The following values are recommendations for bond line parameters to start with.
1) Pre-lamination
During pre-lamination, laminate the adhesive tape onto the first component. Setting:
Temperature¹ 50-60 °C
Pressure² 1-5 bar
Time 5 – 20 s
Short-time exposure to 60°C bond line temperature during pre-lamination does not impact final bonding potential.
2) Bonding
Remove the liner from tape after the pre-lamination step. Position the second component. Apply temperature and pressure for the bonding time to reach sufficient bonding strength. Setting:
Temperature¹ 75 – 110 °C
Pressure² 3 – 10 bar
Time 10 – 480 s
Short cycle times can be achieved at 110 °C bond line temperature. For activation at lower temperatures, increase the heat-press time or combine a short heat-press step with oven curing.
Bonding strength values were obtained under standard laboratory conditions (Material: PC/PC; bonding conditions: temperature = 90 °C; pressure = 5 bar; time = 120 sec).
To reach maximum bonding strength, surfaces should be clean and dry. Allow at least 1-2 hours dwell-time after bonding before performance testing. Final bonding strength will be reached after 24 hours.
Storage
tesa

recommends storage in original packaging in cool and dry conditions.

tesa

® LTC should not be exposed to more than 35°C at any time before bonding (during transport, storage and converting). Long term storage should remain below 25°C.
The shelf life is 6 months after production. For the actual shelf life please refer to the best before date on the label in the log roll core.
More details are available in our transportation guideline.
¹ 'Pre-lamination' and 'Bonding' temperature refer to the data that is measured in the bond line. ² 'Pre-lamination' and 'Bonding' pressure refer to the force that is transferred from jig surface directly to the bonding area.
tesa® products prove their impressive quality day in, day out in demanding conditions and are regularly subjected to strict controls. All technical information and data above mentioned are provided to the best of our knowledge on the basis of our practical experience. They shall be considered as average values and are not appropriate for a specification. Therefore tesa SE can make no warranties, expressed or implied, including, but not limited to any implied warranty of merchantability or fitness for a particular purpose. The user is responsible for determining whether the tesa® product is fit for a particular purpose and suitable for the user's method of application. If you are in any doubt, our technical staff will be glad to support you.