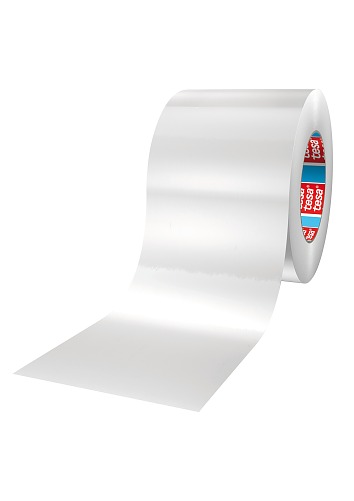 ---
---
Product description
tesa
®
50533 Edge Securing is a high adhesion and robust surface protection tape for freshly painted surfaces. It consists of a UV-stabilized backing coated with a high adhesion EVA adhesive.
tesa
®
50533 Edge Securing ensures strong adhesion and can be used to keep
tesa
®
50535 Bodyguard tapes securely in place, especially in areas with difficult geometries to prevent dust and humidity penetration.
tesa
®
50533 Edge Securing is suitable for die cutting and can be printed on to be used as a security, steering, or marking label. Furthermore, it can be used as a base material for heavy duty protection pads for bumpers and door edges.
Main features:
Reliable paint protection during outdoor storage for up to 12 months
Secure high adhesion during transport
Suitable for die cutting and printing
Thick material quality for high protection
Easy to apply and remove
Easy disposal – both the film and the adhesive system are environmentally friendly
Main applications
tesa
®
50533 Edge Securing is designed to protect surfaces or to secure lighter protection films at stress zones like edges and corners.
Example applications are:
Door edges
Hood and tailgate edges
Additional Info
tesa
®
50533 Edge Securing is also available as die cut product solution as
tesa
®
Edge Securing 54533.
tesa® products prove their impressive quality day in, day out in demanding conditions and are regularly subjected to strict controls. All technical information and data above mentioned are provided to the best of our knowledge on the basis of our practical experience. They shall be considered as average values and are not appropriate for a specification. Therefore tesa SE can make no warranties, expressed or implied, including, but not limited to any implied warranty of merchantability or fitness for a particular purpose. The user is responsible for determining whether the tesa® product is fit for a particular purpose and suitable for the user's method of application. If you are in any doubt, our technical staff will be glad to support you.