Ancillary Products
Adhesion promoters, adhesive removers, cleaning agents and process tapes to make tape application and converting easier.
Grip Tape for Roller Wrapping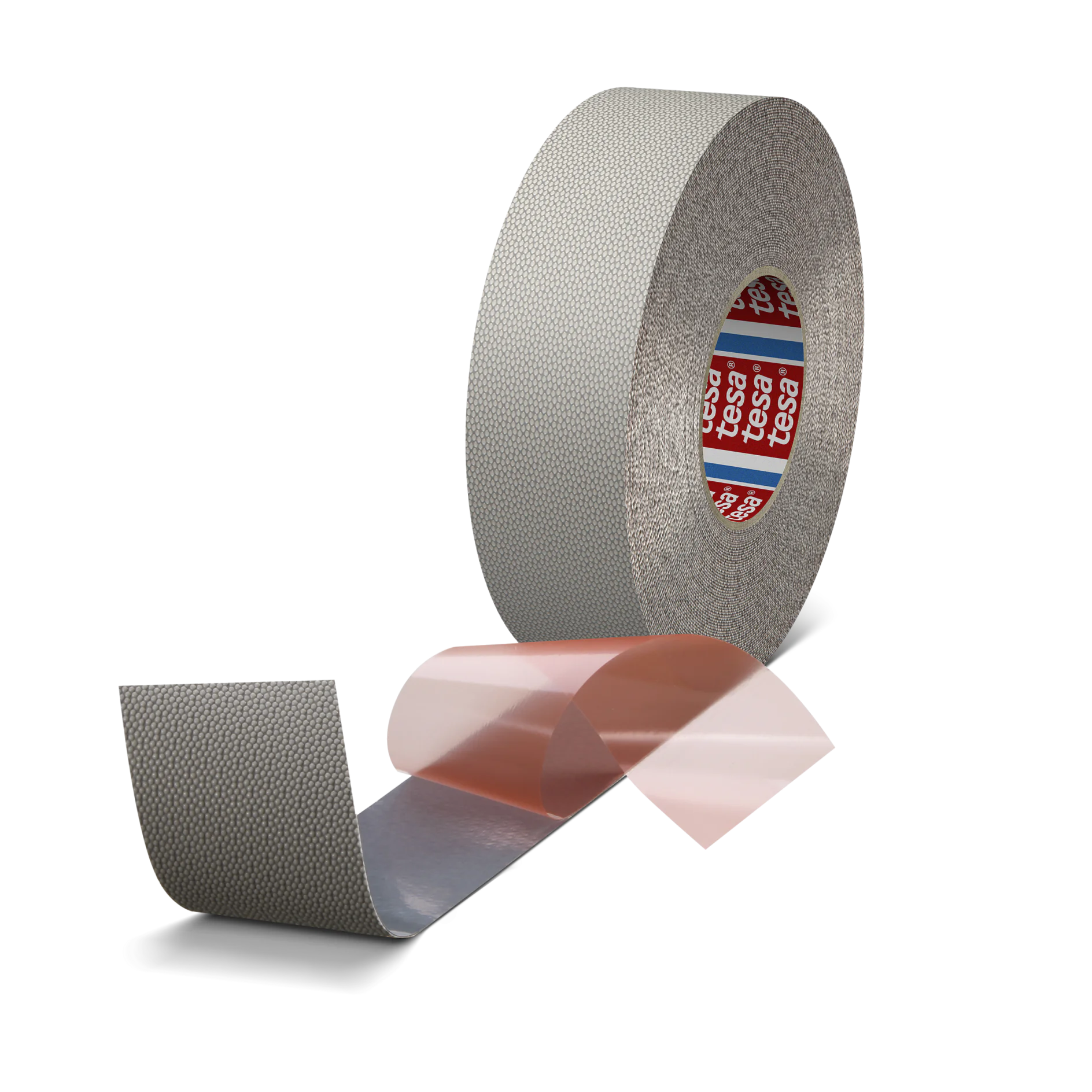 Our decades of experience as manufacturers of roller wrapping tapes have made our grip tapes a benchmark. They support a variety of manufacturing, converting, and printing processes that utilize roller systems and process materials such as films, textiles, paper, and more.
Ever striving for the highest quality and optimal solutions, the well-proven tape design has been improved even further over the years, ensuring maximum process reliability and efficiency.
The tape design allows for clean and accurate application, while at the same time ensuring easy removal. Applied on the roller, the tape will securely keep its position, even at elevated temperatures.
tesa

® 4863 roller wrapping tape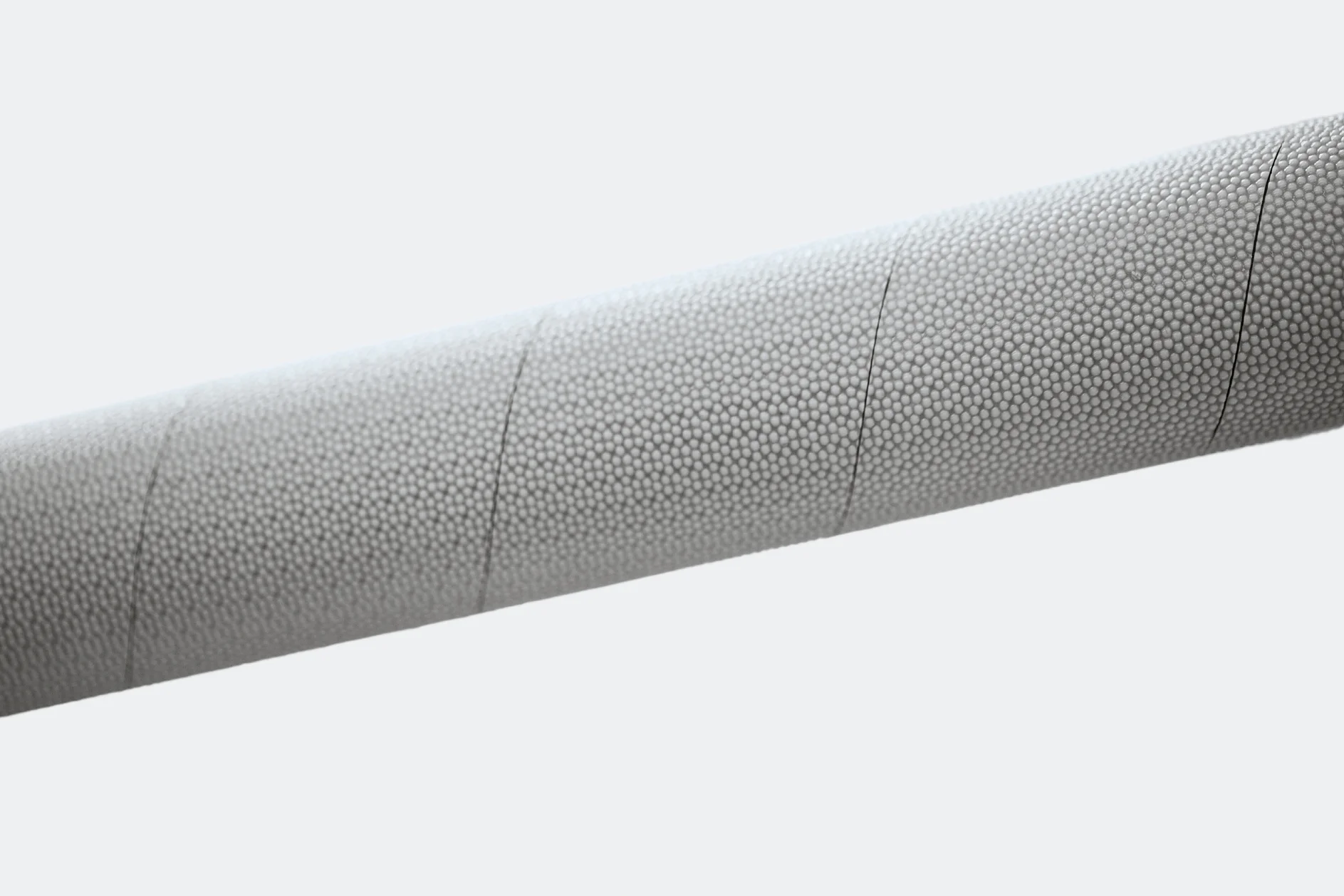 Outstanding grip and traction to provide tension in the web being processed
Repels a variety of substances involved in the process (e.g. adhesives or inks)
Highly resistant to wear
Easily removable, even after a prolonged period of time
Exceptionally temperature resistant 
Roller wrapping tape application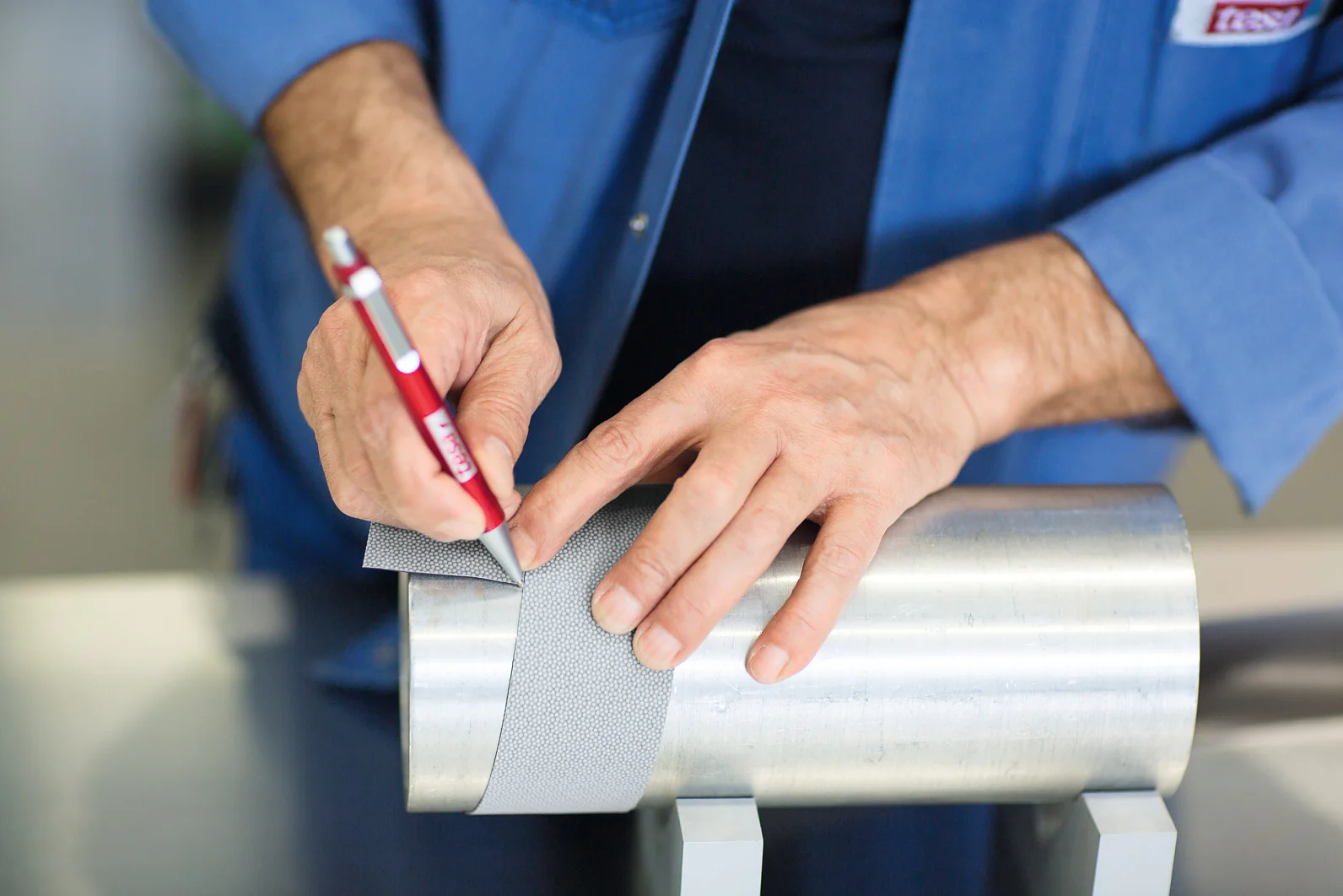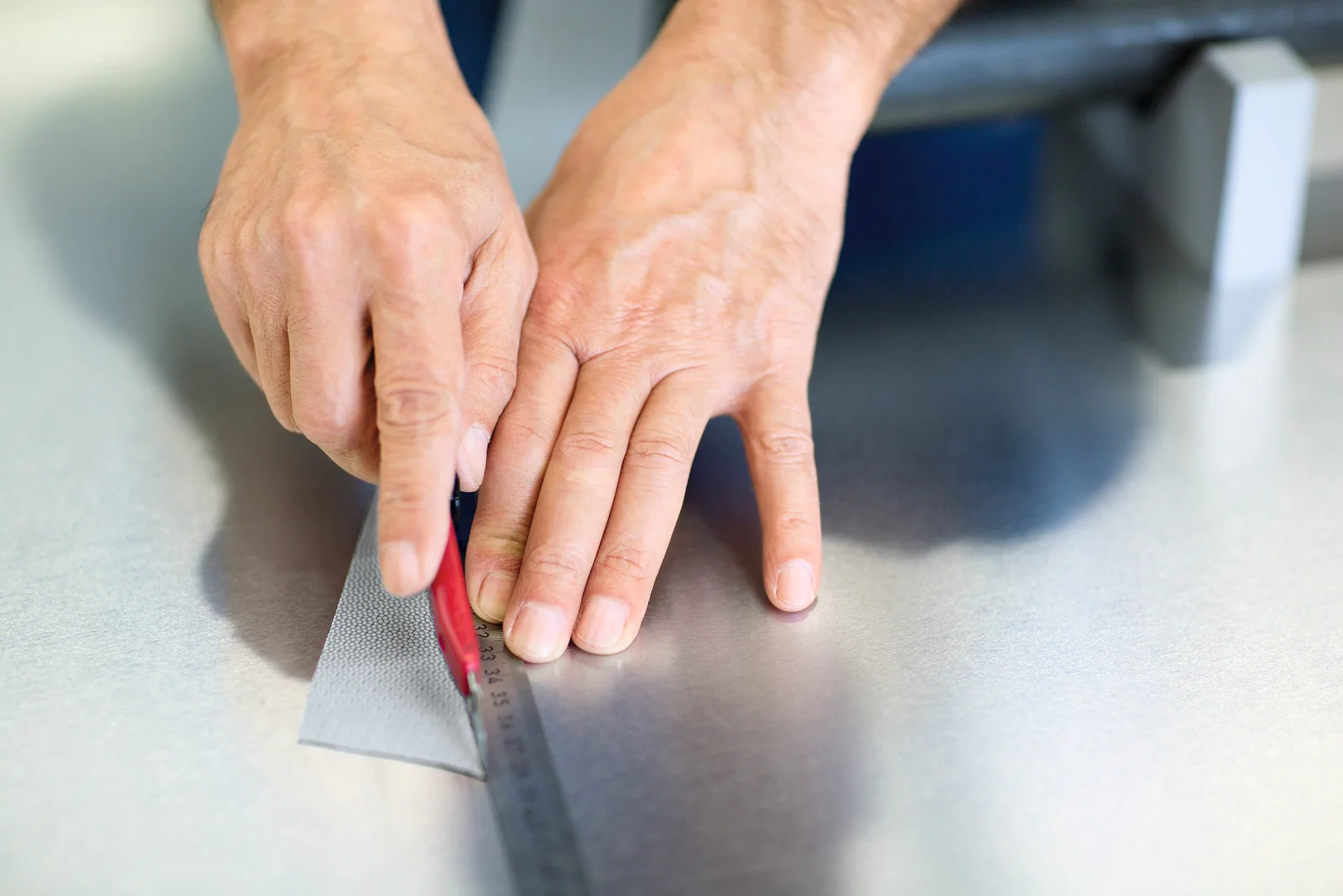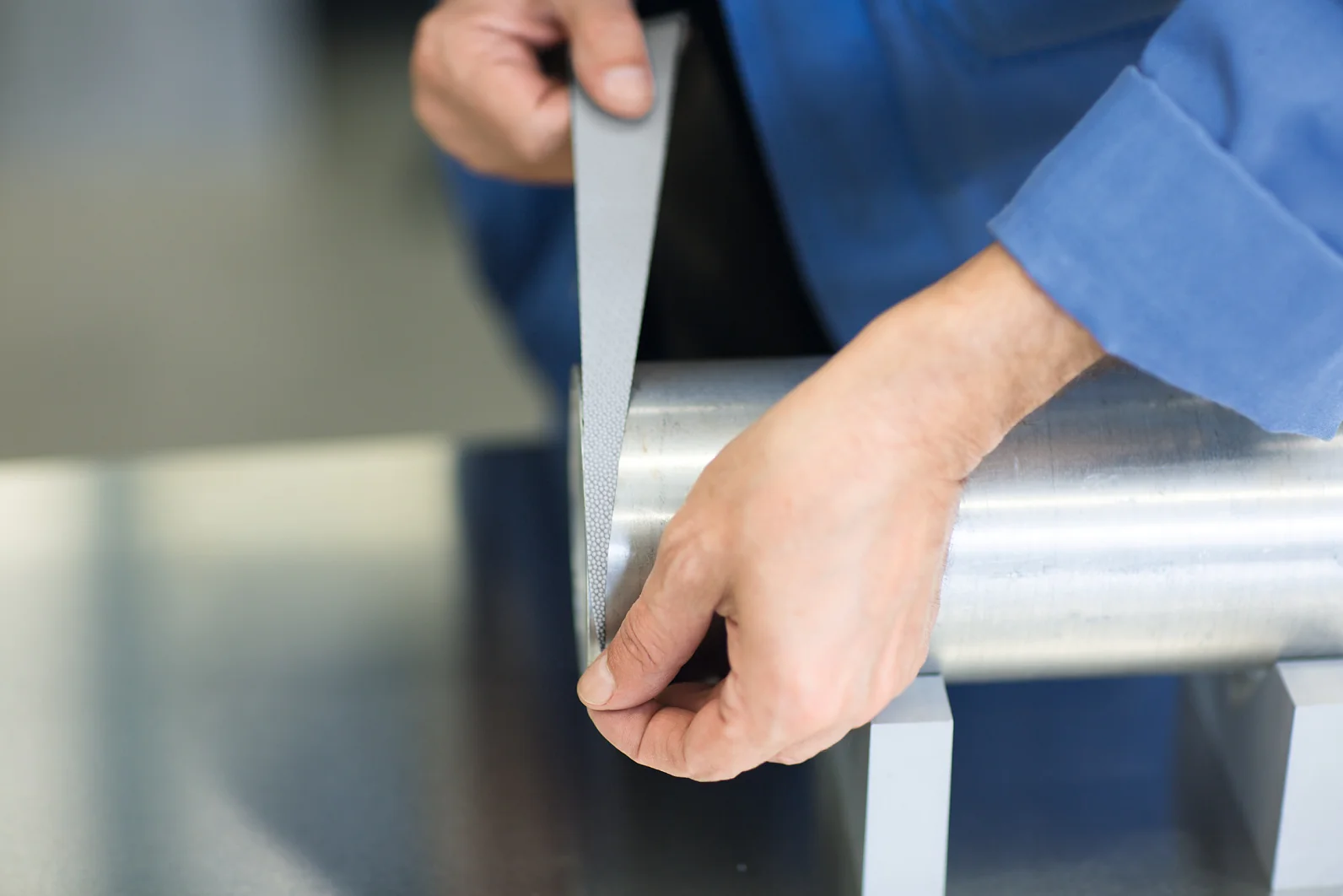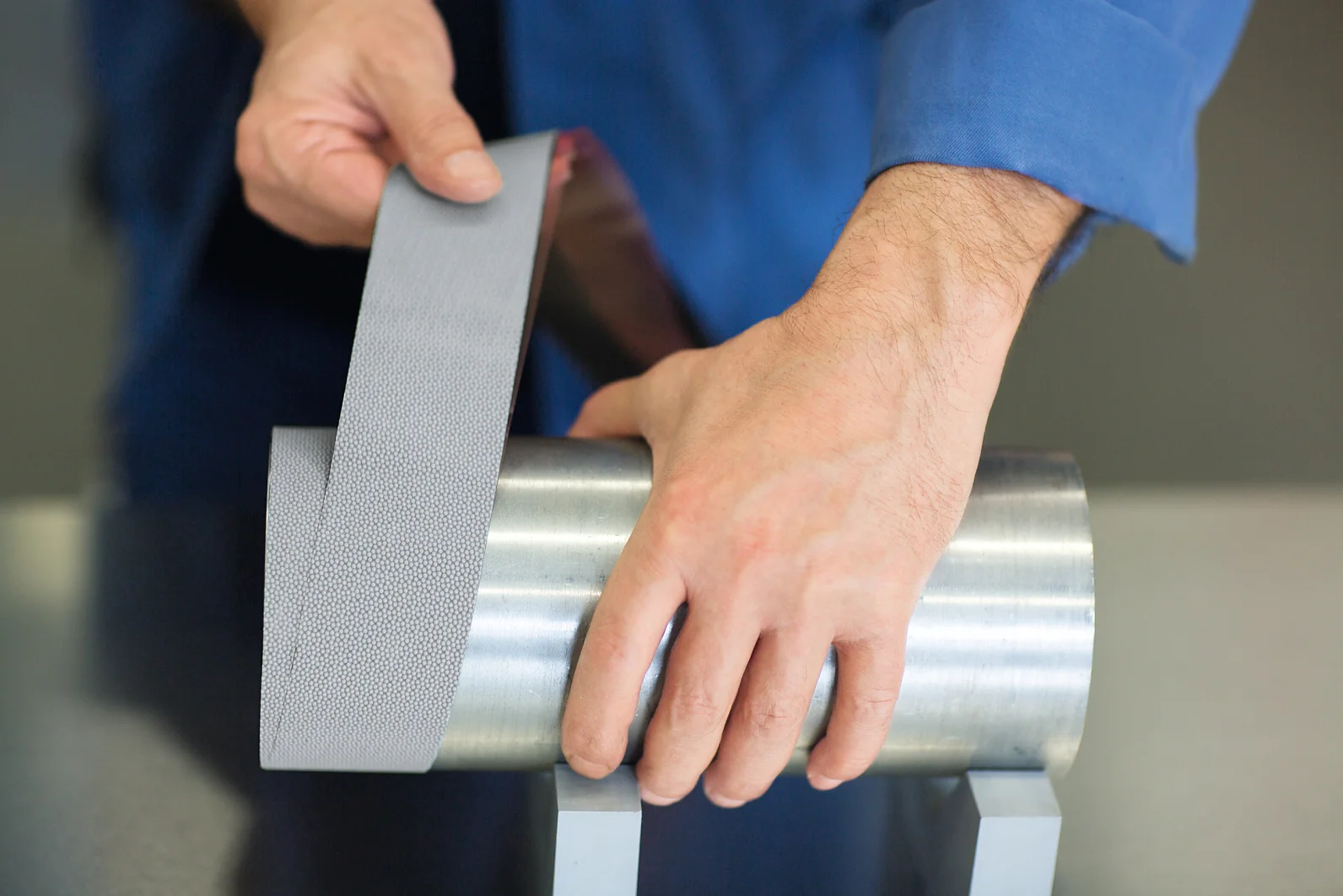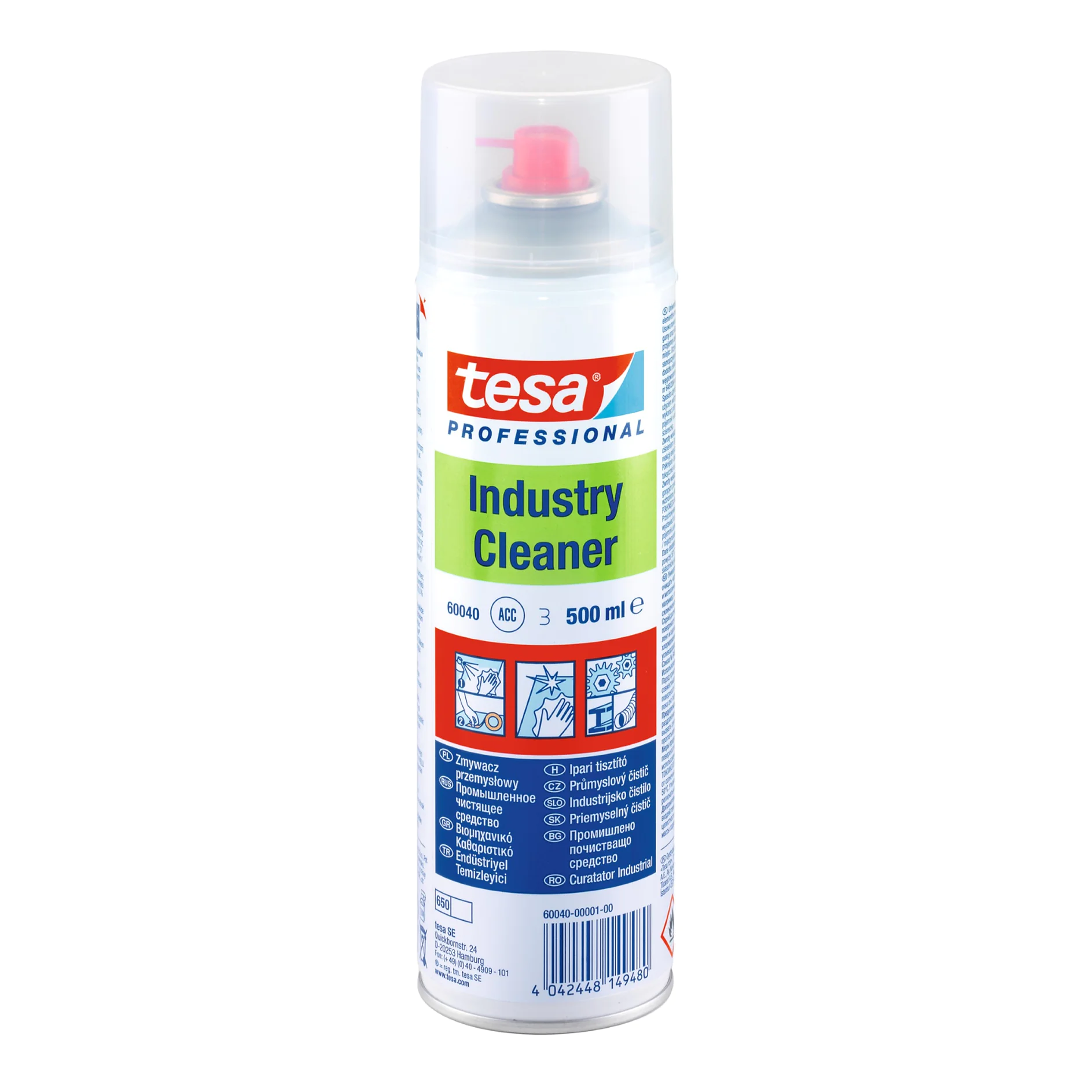 Surfaces to be bonded must be clean, dry, and free of dust, grease, oil, and release agents. For cleaning, only use clean cloths and material-compatible cleaning agents like tesa® 60040 Industry Cleaner. The components must be adapted to the ambient climate for a sufficient period to prevent the formation of condensation on the surfaces.
By cleaning the surfaces with a cleaning agent, you make sure all impurities are removed, such as:
Dust
Release agents
Greases
Waxes
Plasticizers
Oxidation layers, e.g. rust
tesa

® 60400 Industry Cleaner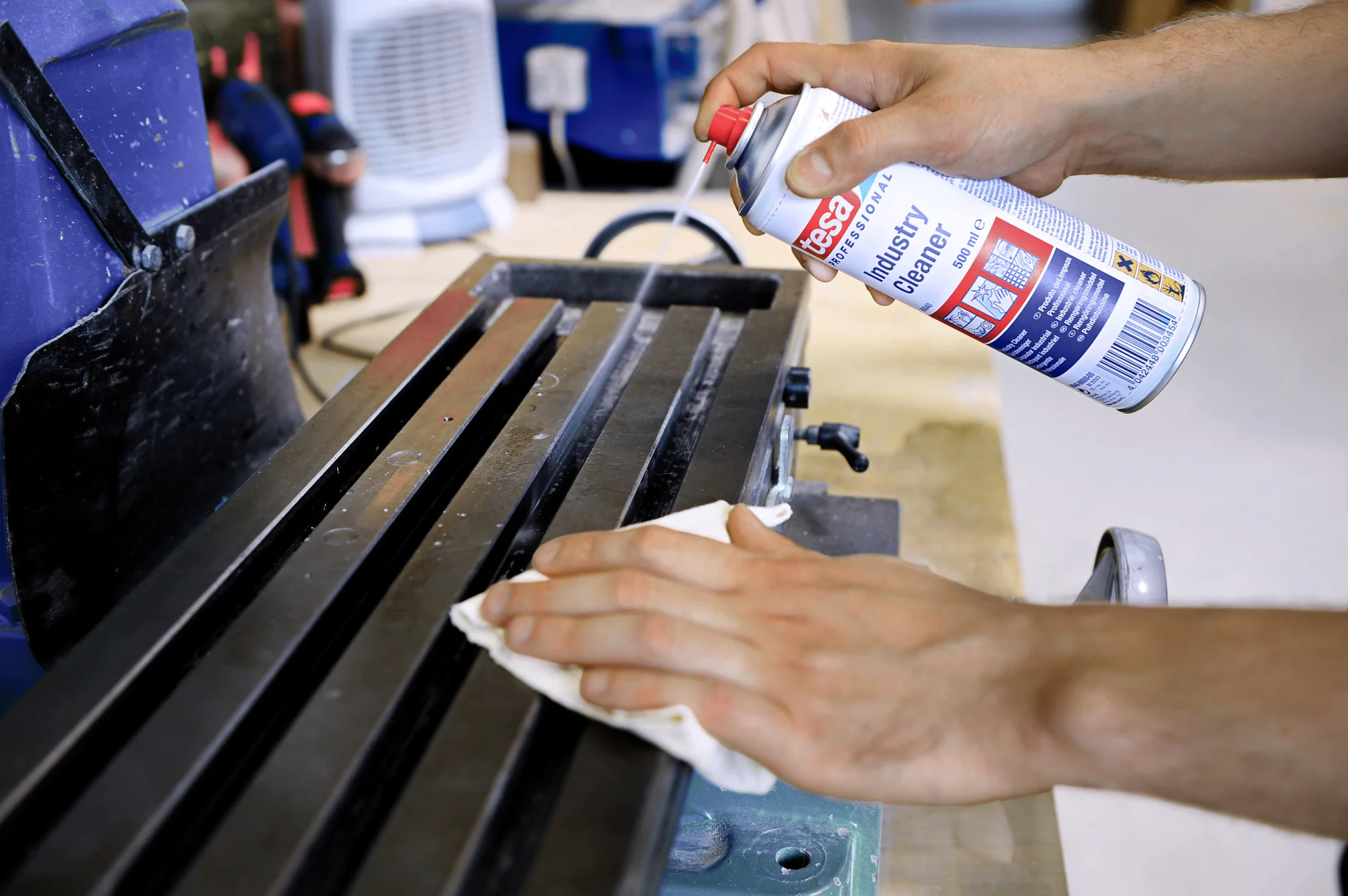 Effective cleaning of surfaces for optimum bonding results
Evaporates without leaving residues
Excellent cleaning results on machinery and many different surfaces like plastic and metal
Transparent color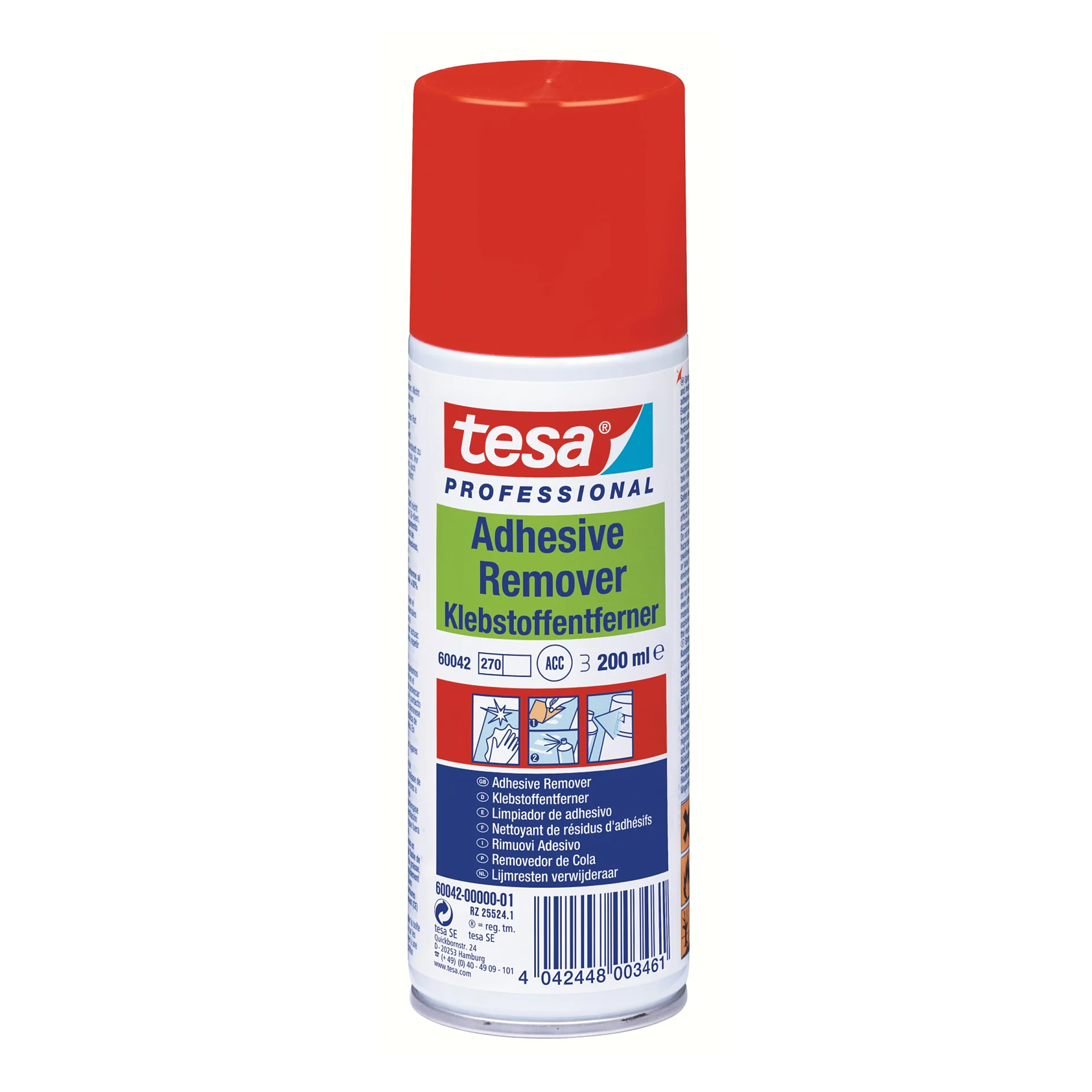 Adhesive mass residues may remain if it occurs that an unsuitable adhesive tape is used or one has waited too long to remove the tape. In this case, tesa® 60042 Adhesive Remover can play a key role in the removal of such residues:
Dab residues with the adhesive side of a more adhesive product, such as 

tesa

® 4651. 
Use 

tesa

® 60042 Adhesive Remover. Removes most adhesive residues on glass, metal, and plastic surfaces reliably.
Alternatively use mineral spirits, isopropanol, or similar: Thoroughly soak and expel the adhesive mass with a plastic spatula to avoid damage. Please test the solvent on a concealed area first.
tesa

® 60042 Adhesive Remover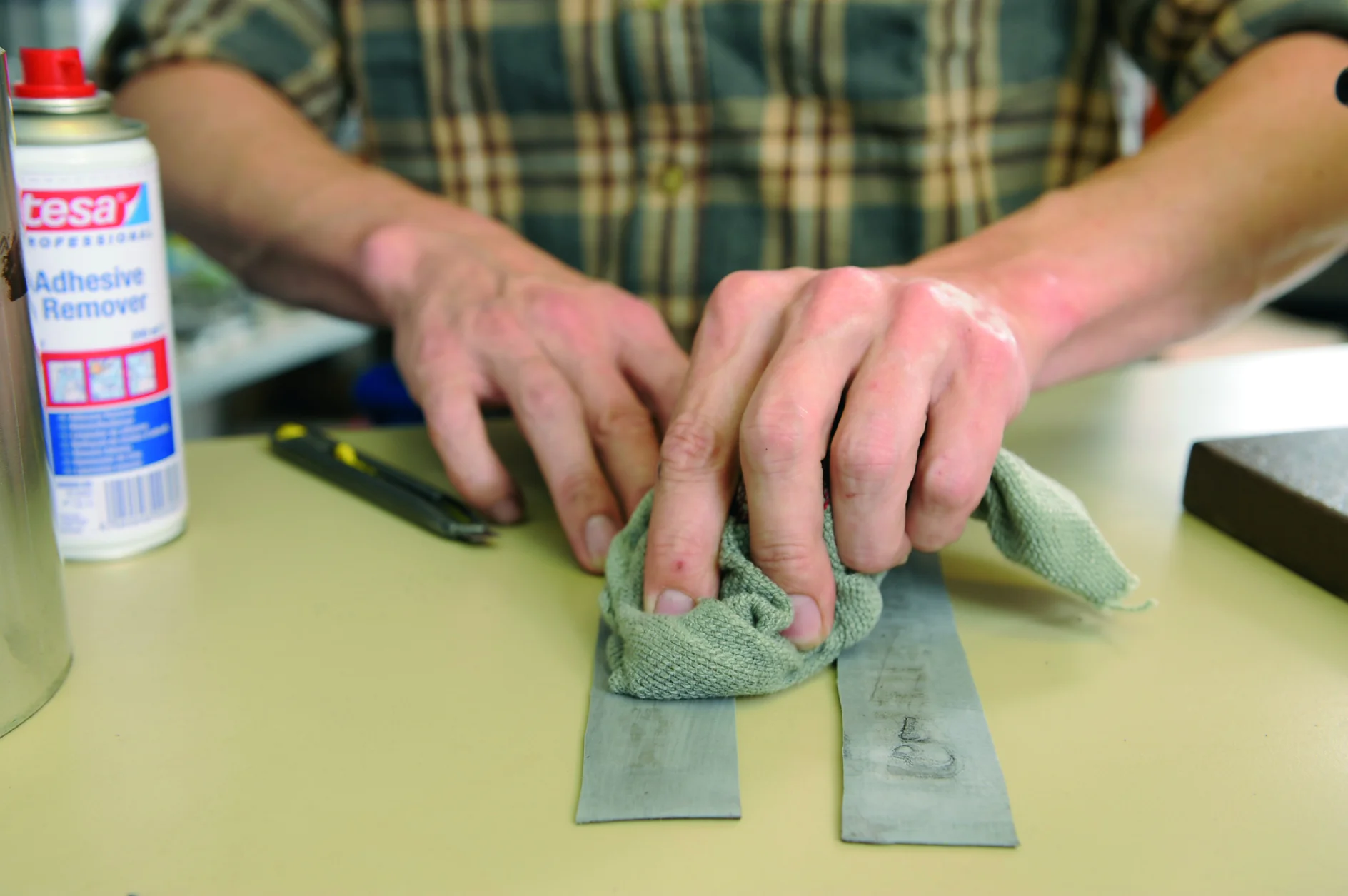 Removes glue residues from plastic parts and glass and metal surfaces
Evaporates without leaving residues
Easy removal of labels
Transparent color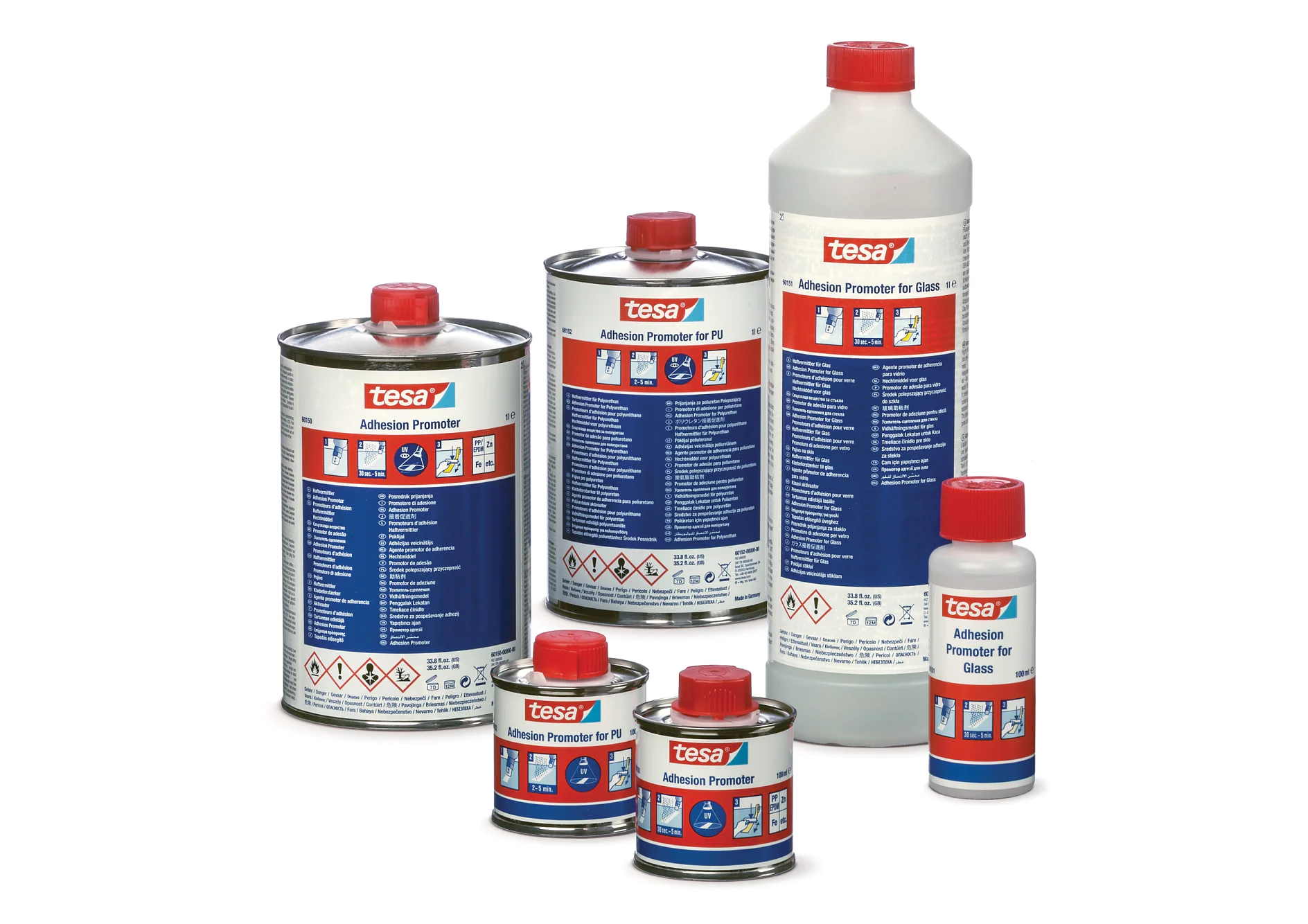 For bonding – especially outdoors and on surfaces that are difficult to bond – we recommend the use of a bonding agent, like our tesa® Adhesion Promoters. Bonding agents form a layer on the surface to which the pressure-sensitive adhesive adheres particularly well.
Indeed, there are plastics and other materials to which adhesive does not stick well. Polyethylene (PE), polypropylene (PP), Teflon, rubber, and silicone are some of these. Experts speak of "very low surface energy."
The exciting thing about a primer is it increases this surface tension, which lets the tape stick to the substrate more strongly. This layer also prevents water from entering the adhesive joint and thus enables consistent outdoor bonding.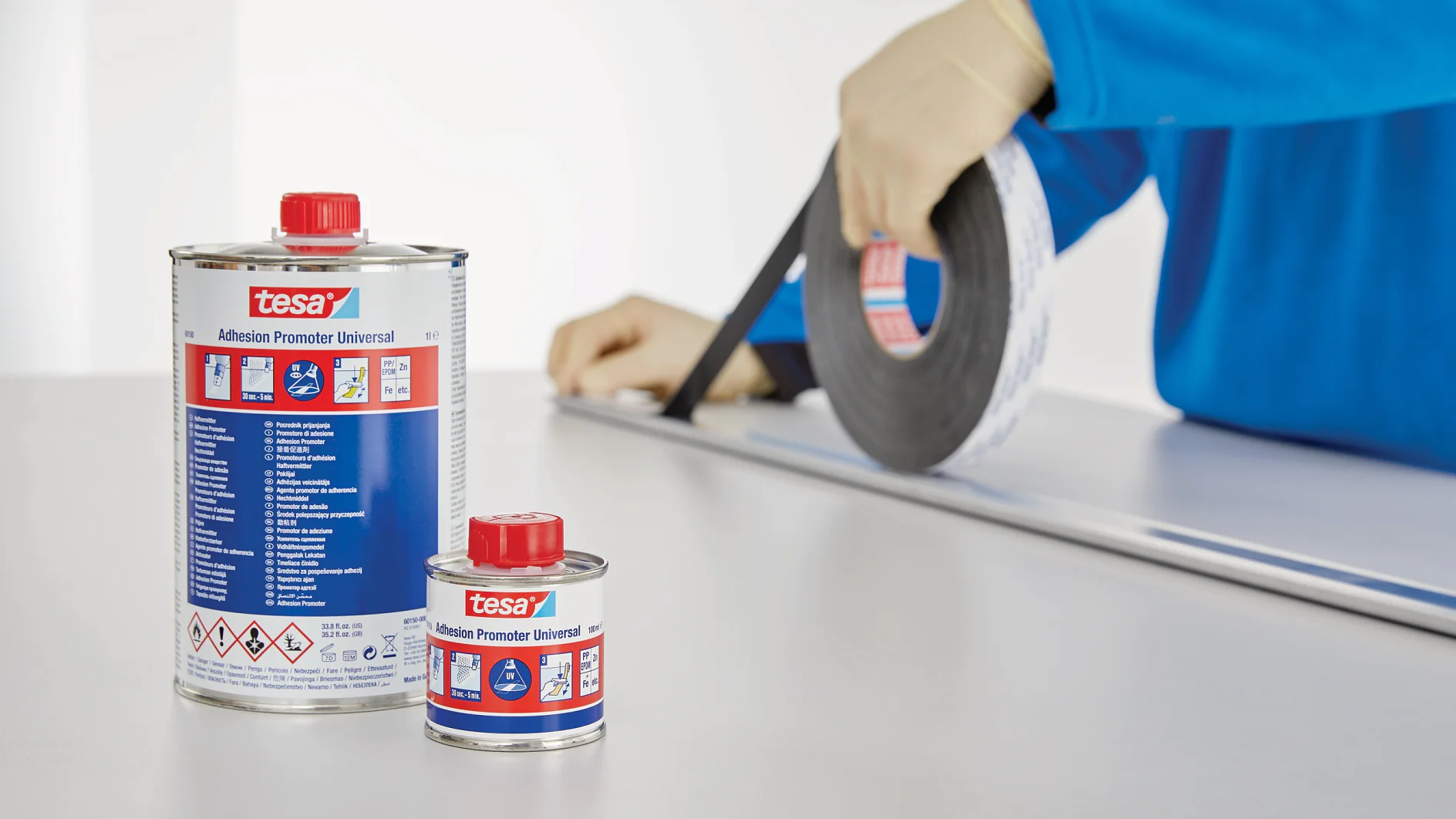 Once the surface has been cleaned, apply our 

tesa

® Adhesion Promoter with a lint-free cloth, brush, or sponge. The entire surface should be coated thinly with an adhesion promoter to reach the highest bonding performance.
Wait at least 30 seconds (and a maximum of 5 minutes) to give solvents time to evaporate. 
Once the substrate has been properly pre-treated with a 

tesa

® Adhesion Promoter, the bond should be established within 15 minutes.