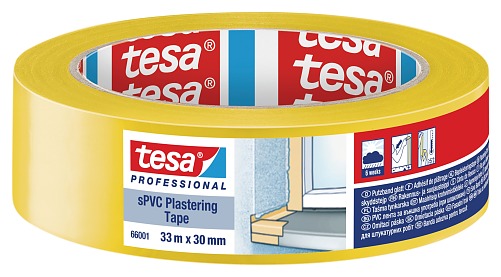 ---
---
Product description
A good plastering tape should come in handy for more than just masking. The
tesa
®
sPVC Plastering Tape also offers the adhesive strength and sturdy build that allows you to tape items into place as well as bundle them together, for example to keep these sorted and available for later use. For all those uses, the tape offers good weather resistance as it continues its adhesive strength under a variety of temperatures, ranging from average spring/fall temperatures (+5 °C and above) to summer heat with extreme sunshine (+60 °C). Along with the UV resistance for up to six weeks, the plastering tape is well suited to last for as long as your work requires it to stay in place. The choice of orange or yellow backing colors add to the practicality of the tape as it can also serve, for instance, to mark different applications. The natural rubber adhesive even sticks to slightly rough surfaces, such as a number of facade options. With that, the
tesa
®
sPVC Plastering Tape is a good addition to any tool kit.
Main features
Robust sPVC backing combined with powerful natural rubber adhesive allow items to be bundled together or fixed into place
Adhesive creates good grip on a variety of surfaces, even on slightly rough ones
Wide temperature range for application, from +5 °C to +60° C
Residue-free UV resistance for up to six weeks
Orange or yellow tapes available
Usable in many environments
Tape composition: backing material = sPVC, adhesive = natural rubber
Available sizes: 33m:30mm, 33m:50mm
Technical properties
Temperature resistance short term
Rating properties
Suitable for sensitive surfaces
Suitable for rough surfaces
tesa® products prove their impressive quality day in, day out in demanding conditions and are regularly subjected to strict controls. All technical information and data above mentioned are provided to the best of our knowledge on the basis of our practical experience. They shall be considered as average values and are not appropriate for a specification. Therefore tesa SE can make no warranties, expressed or implied, including, but not limited to any implied warranty of merchantability or fitness for a particular purpose. The user is responsible for determining whether the tesa® product is fit for a particular purpose and suitable for the user's method of application. If you are in any doubt, our technical staff will be glad to support you.