tesa

® NOOBLESSE towel ring, self-adhesive, stainless-steel design, noble design

The superb design of the tesa® Nooblesse towel ring turns it into an accessory you can't resist. Mounted without drilling but with a formidable adhesive solution, walls and tiles come to no harm. You can remove the ring cleanly whenever you like and reuse it elsewhere with a new adapter BK20.
Robust towel ring, including the

tesa

® Power.Kit technology (the all-in-one adhesive mounting solution)

Superb design, round style, stainless-steel look, circular wall plate

Secure hold, waterproof, guaranteed stainless
All Product details
Product details
Safety Instructions
User reviews
FAQs
Product details
Product description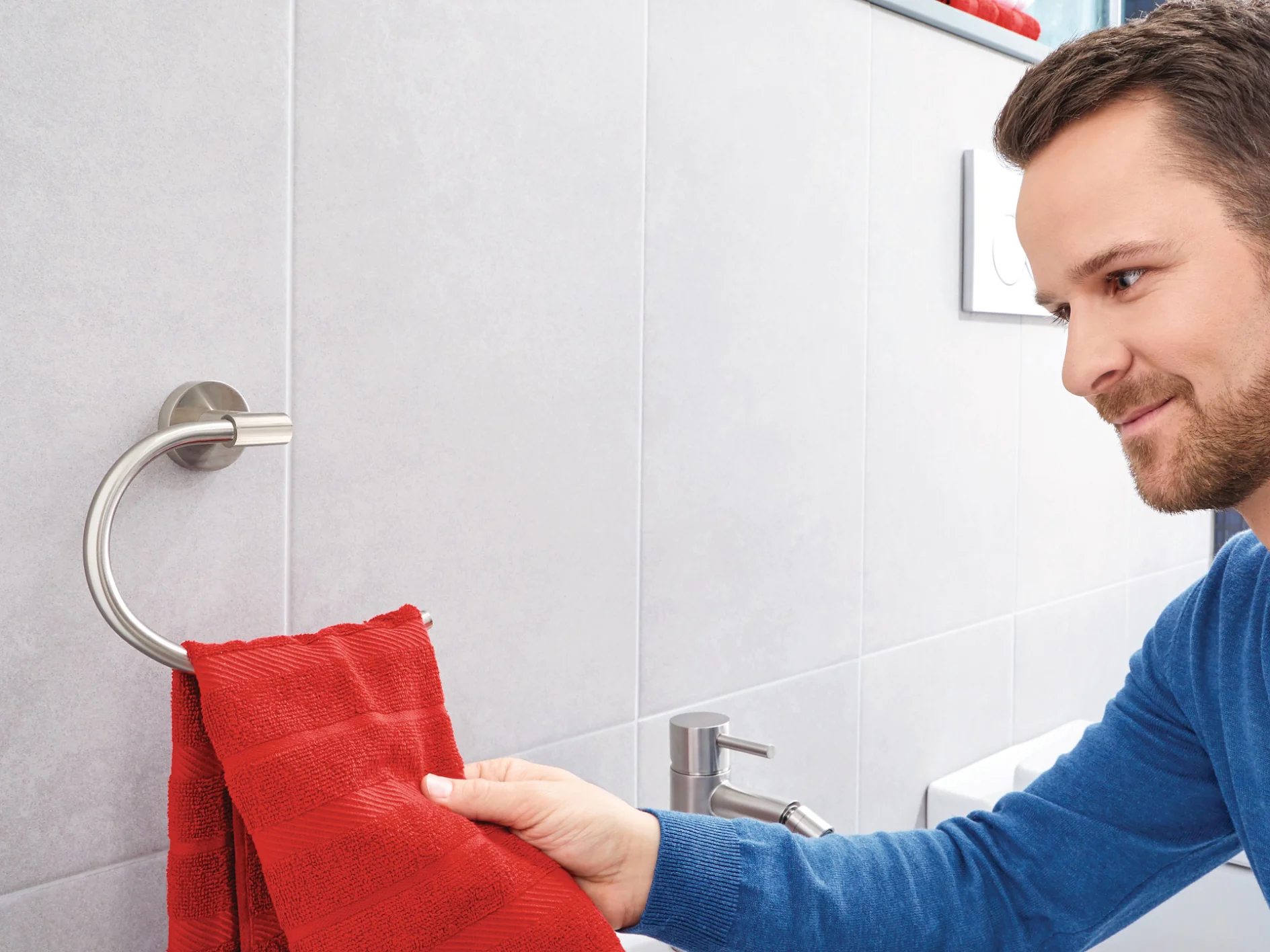 Product description
The superb tesa® Nooblesse towel ring is refined and decorous. Its stainless-steel look supports the graceful round design, with the inviting open-ended circle and the soft-closing hinge. Made from high-quality materials, waterproof and stainless, the ring will stand the test of time. For attachment, drilling is not required. Instead, a powerful adhesive solution is employed. Walls and tiles remain intact. Despite the formidable hold, the ring is swiftly removable without a trace at any time and can be conveniently remounted elsewhere with a new adapter BK20. tesa.Power.Kit Glue: Warning! Hazardous respirable dust may be formed when used. Do not breathe dust.
Robust towel ring, including the

tesa

® Power.Kit technology (the all-in-one adhesive mounting solution)

Superb design, round style, stainless-steel look, circular wall plate

Secure hold, waterproof, guaranteed stainless

Works on tiles, metal, natural stone, marble, concrete, wood, glass and many types of plastic

Does not work on wallpaper, stucco and other surfaces with non-stick coating
Can be taken off without a trace or surface damage and reapplied with adapter BK20

Clean, easy mounting without drilling

Soft close function

Product dimensions: 150mm x 203mm x 62mm