tesa

® KLAAM bouble hook, self-adhesive, chromed metal

It's easy to attach the self-adhesive tesa® Klaam bathroom robe hook reliably without drilling. Walls and tiles stay intact. The high gloss chrome finish enhances the hook's beautiful angular design. You can remove it without a trace at any time and conveniently move it to a different spot with a new adapter BK20.
Bathroom robe hook, double hook, with

tesa

® Power.Kit technology (all-in-one adhesive mounting solution)

High gloss chrome-plated metal, angular style, rectangular wall plate

Reliable hold, waterproof, guaranteed stainless
All Product details
Product details
Safety Instructions
User reviews
FAQs
Product details
Product description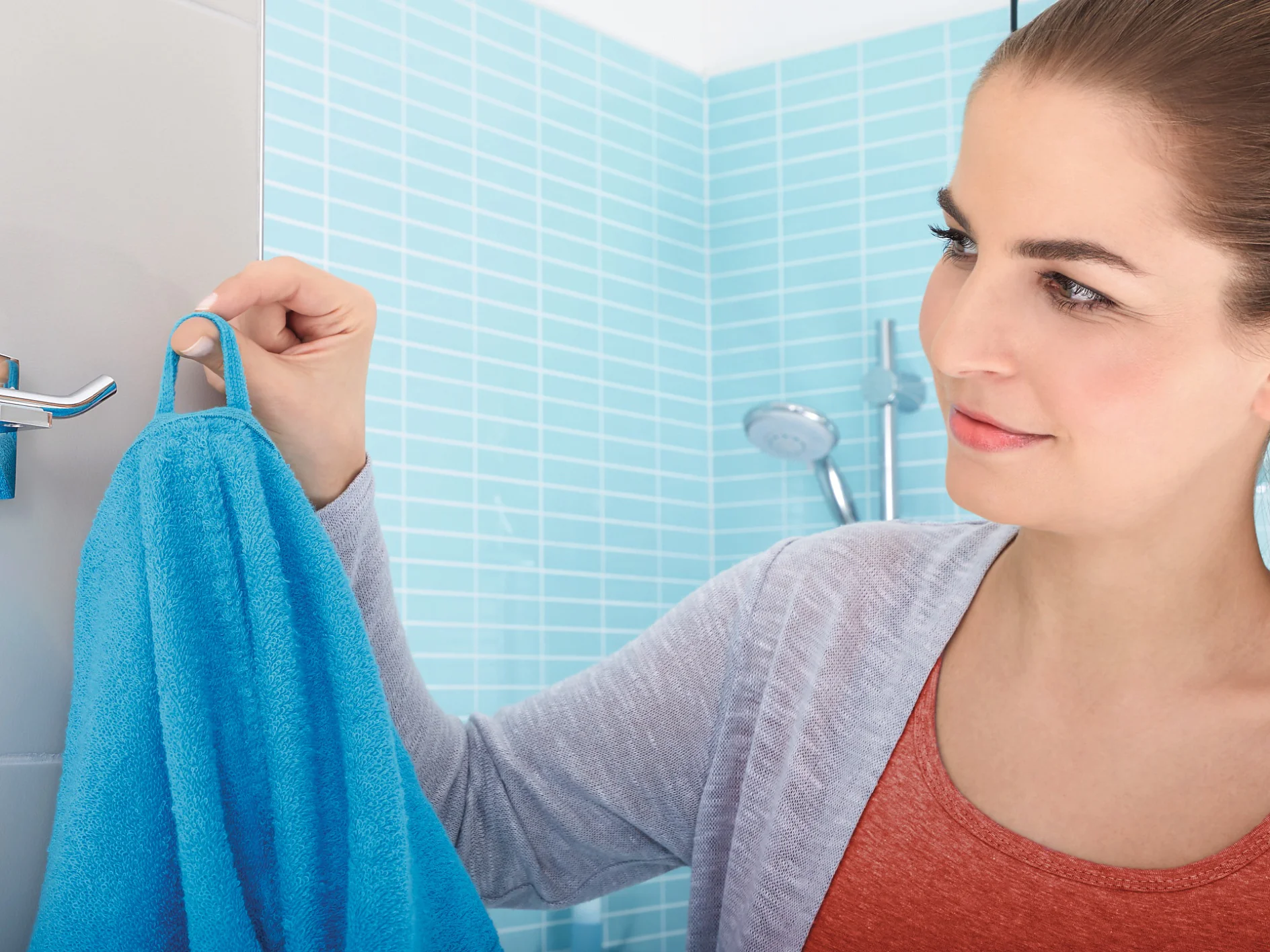 Product description
There's never too many hooks in a bathroom since there is always something that needs to be hung up, be it a towel, a bathrobe or a washbag. The angular tesa® Klaam bathroom robe double hook is both reliable and beautiful with its high gloss chrome finish on the metal body. For application, an adhesive solution is used. Drilling is not required, thus keeping walls and tiles unscathed. The adhesive needs 12 hours to dry. Whenever you choose, you can remove the hook swiftly and without a trace. With a new adapter BK20, the hook is simple to put up again in another spot. tesa.Power.Kit Glue: Warning! Hazardous respirable dust may be formed when used. Do not breathe dust.
Bathroom robe hook, double hook, with

tesa

® Power.Kit technology (all-in-one adhesive mounting solution)

High gloss chrome-plated metal, angular style, rectangular wall plate

Reliable hold, waterproof, guaranteed stainless

Works on tiles, metal, natural stone, marble, concrete, wood, glass and many types of plastic

Does not work on wallpaper, stucco and other surfaces with non-stick coating
Can be removed without a trace and shifted elsewhere with a new adapter BK20

Simple mounting without drilling

Product dimensions: 61mm x 96mm x 47mm