tesa

® EXXCLUSIV toilet roll holder, self-adhesive, stainless-steel design

The sophisticated design of the tesa® Exxclusiv toilet roll holder marks it out as a top-class accessory, with an elegant stainless-steel look. The holder is attached without drilling, using adhesive instead. It is simple to take down at any time, and it can be effortlessly put up elsewhere with a new adapter BK20.
Long-lasting toilet roll holder, including the

tesa

® Power.Kit technology (the all-in-one adhesive mounting solution)

Sophisticated design, rectangular style, stainless steel design, square wall plate

Secure hold, waterproof, guaranteed stainless, anti-fingerprint
All Product details
Product details
Safety Instructions
User reviews
FAQs
Product details
Product description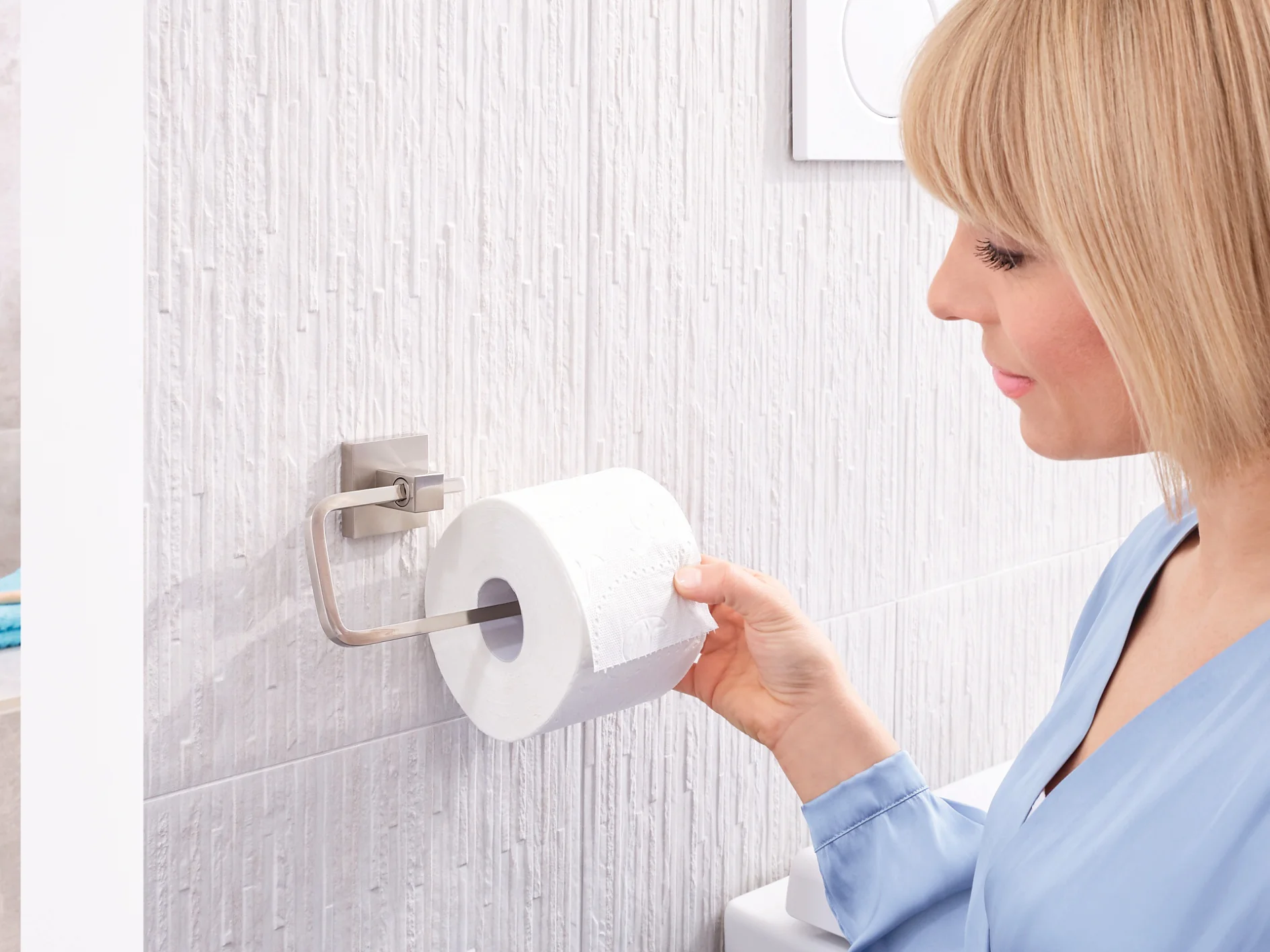 Product description
The square design of the classy tesa® Exxclusiv toilet roll holder allows it to fit into any bathroom décor. The stainless-steel look with anti-fingerprint coating nicely complements the overall look which is matched by the smooth usability. The durable materials guarantee a high longevity. Mounting the holder is handled with adhesive rather than drilling, thus keeping walls and tiles as they were. At any time, the accessory can be taken down without a trace. It's a breeze remounting it in a different spot with a new adapter BK20. tesa.Power.Kit Glue: Warning! Hazardous respirable dust may be formed when used. Do not breathe dust.
Long-lasting toilet roll holder, including the

tesa

® Power.Kit technology (the all-in-one adhesive mounting solution)

Sophisticated design, rectangular style, stainless steel design, square wall plate

Secure hold, waterproof, guaranteed stainless, anti-fingerprint

Works on tiles, metal, natural stone, marble, concrete, wood, glass and many types of plastic

Does not work on wallpaper, stucco and other surfaces with non-stick coating
Can be taken off without a trace, no surface damage, reusable with adapter BK20

Effortless, clean application without drilling

Soft close function

Product dimensions: 99mm x 160mm x 45mm