tesa

® EXXCELLENT Toilet Paper Holder, Self-Adhesive, Chromed Metal

Crafted for a timeless and long-lasting look, the tesa® Exxcellent toilet paper holder is the epitome of chic. For application, drilling is not needed since a powerful adhesive solution is used instead. Walls and tiles suffer no damage. The holder can be cleanly removed and remounted elsewhere with a new adapter BK20.
Robust toilet paper holder, including the

tesa

® Power.Kit technology (the all-in-one adhesive mounting solution)

Chic design, round style, high gloss chrome-plated metal, circular wall plate

Secure hold, waterproof, guaranteed stainless
All Product details
Product details
Safety Instructions
User reviews
FAQs
Product details
Product description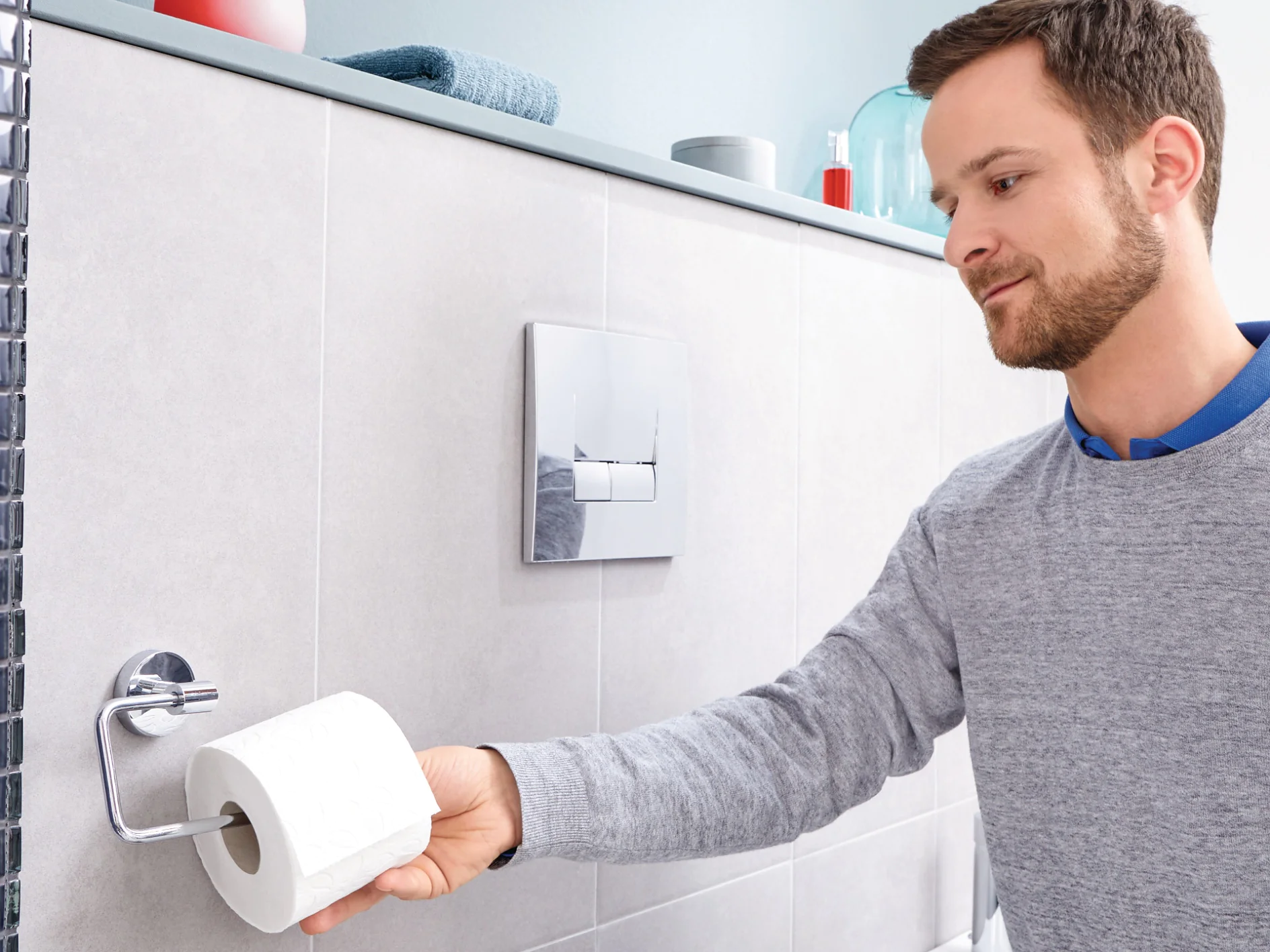 Product description
The beautiful round design of the chic tesa® Exxcellent toilet paper holder is admirably supported by the high gloss chrome finish on the metal body. Waterproof and stainless, it is made from top-grade materials, built to last. The soft-closing hinge ensures that usage is comfortable. Also of the highest quality is the adhesive solution used for attachment, creating a solid bond without drilling and thus without damage to walls or tiles. Nonetheless, the holder is simple to remove cleanly at any time and can be shifted to a different spot with a new adapter BK20. tesa.Power.Kit Glue: Warning! Hazardous respirable dust may be formed when used. Do not breathe dust.
Robust toilet paper holder, including the

tesa

® Power.Kit technology (the all-in-one adhesive mounting solution)

Chic design, round style, high gloss chrome-plated metal, circular wall plate

Secure hold, waterproof, guaranteed stainless

Works on tiles, metal, natural stone, marble, concrete, wood, glass and many types of plastic

Does not work on wallpaper, stucco and other surfaces with non-stick coating
Can be taken off without a trace or surface damage and re-attached with adapter BK20

Simple, clean application without drilling

Soft-close function

Product dimensions: 106mm x 135mm x 45mm