tesa

® ELEGAANT towel bar, self-adhesive, chromed metal, extraordinary design

Smoothed angles are the hallmark of the elegant tesa® Elegaant towel bar which easily supports heavier and wider towels. Drilling is not necessary for application since an adhesive solution is used instead. The bar can be removed without any residue. It can also be reused elsewhere with a new adapter BK20-2.
High load-bearing towel bar, including the

tesa

® Power.Kit technology (the all-in-one adhesive mounting solution)

Unique design, smoothed angular style, high gloss chrome-plated metal, smoothed square wall plates

Sturdy hold, waterproof, guaranteed stainless
All Product details
Product details
Safety Instructions
User reviews
FAQs
Product details
Product description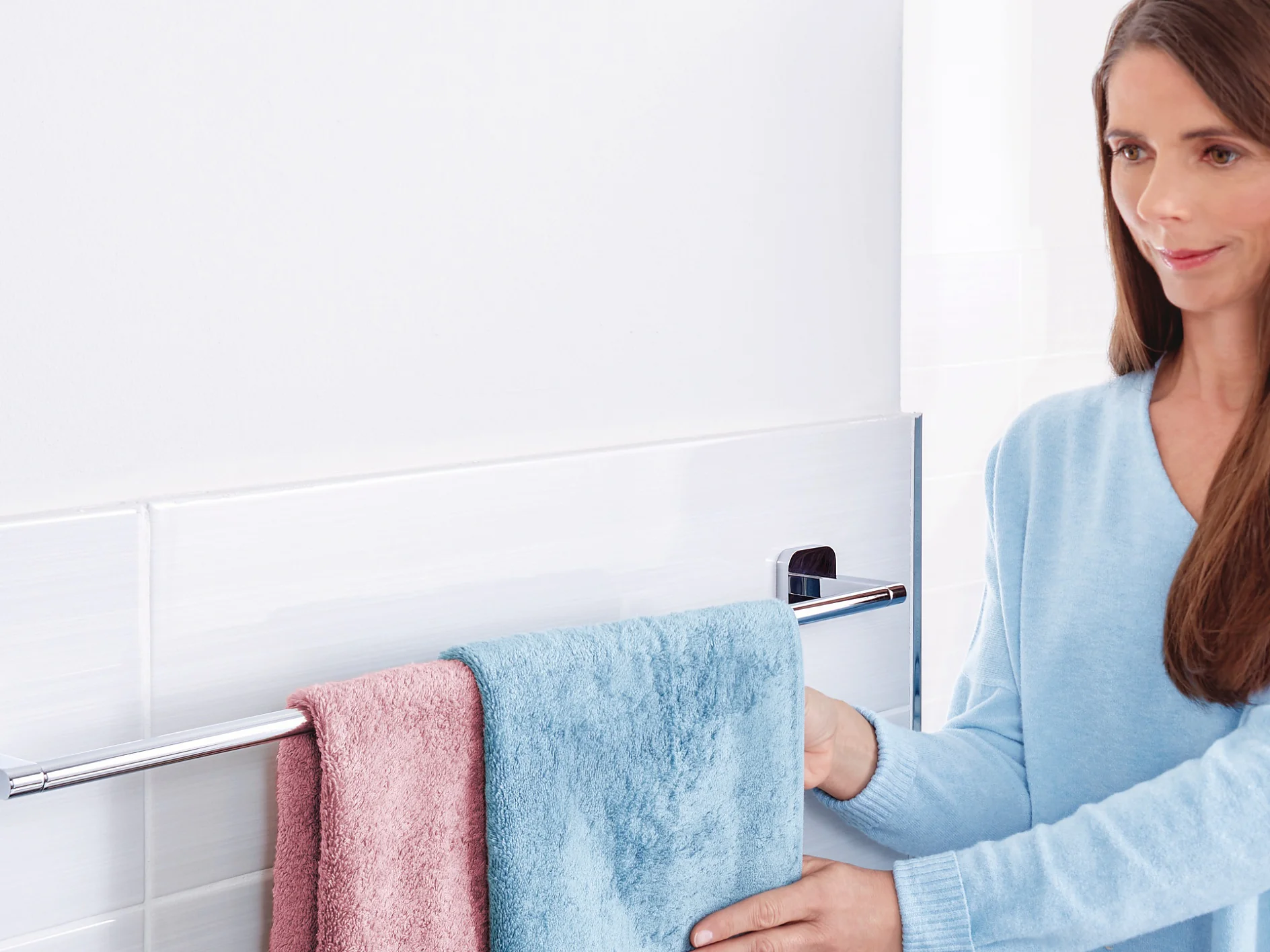 Product description
Its clean, dignified look gives the beautiful tesa® Elegaant towel bar an air of class. With a high gloss chrome finish on a solid metal body, it is sturdy and can support heavier towels as well. Waterproof and stainless, it's made to last. The bar is mounted with a formidable adhesive solution that takes 12 hours to dry. Drilling is not involved, thus keeping walls and tiles intact. You can take off the bar at any time, without any residue left behind, and put it up again elsewhere with a new adapter BK20-2. tesa.Power.Kit Glue: Warning! Hazardous respirable dust may be formed when used. Do not breathe dust.
High load-bearing towel bar, including the

tesa

® Power.Kit technology (the all-in-one adhesive mounting solution)

Unique design, smoothed angular style, high gloss chrome-plated metal, smoothed square wall plates

Sturdy hold, waterproof, guaranteed stainless

Works on tiles, metal, natural stone, marble, concrete, wood, glass and many types of plastic

Does not work on wallpaper, stucco and other surfaces with non-stick coating
Removable without a trace or surface damage. Can be re-attached with adapter BK20-2

Clean, simple mounting without drilling

Product dimensions: 50mm x 630mm x 85mm