tesa

® ELEGAANT double hook, self-adhesive, chromed metal, unique design

The uniquely styled tesa® Elegaant double hook with its angular design is a fashionable accessory, ideally suited for any bathroom. Mounted with an adhesive solution instead of drilling, walls and tiles remain as they were. The hook can be taken down without a trace and reused elsewhere with a new adapter BK20.
Sturdy double hook, including the

tesa

® Power.Kit technology (the all-in-one adhesive mounting solution)

Extraordinary design, smoothed angular style, high gloss chrome-plated metal, smoothed square wall plate

Reliable hold, waterproof, guaranteed stainless
All Product details
Product details
Safety Instructions
User reviews
FAQs
Product details
Product description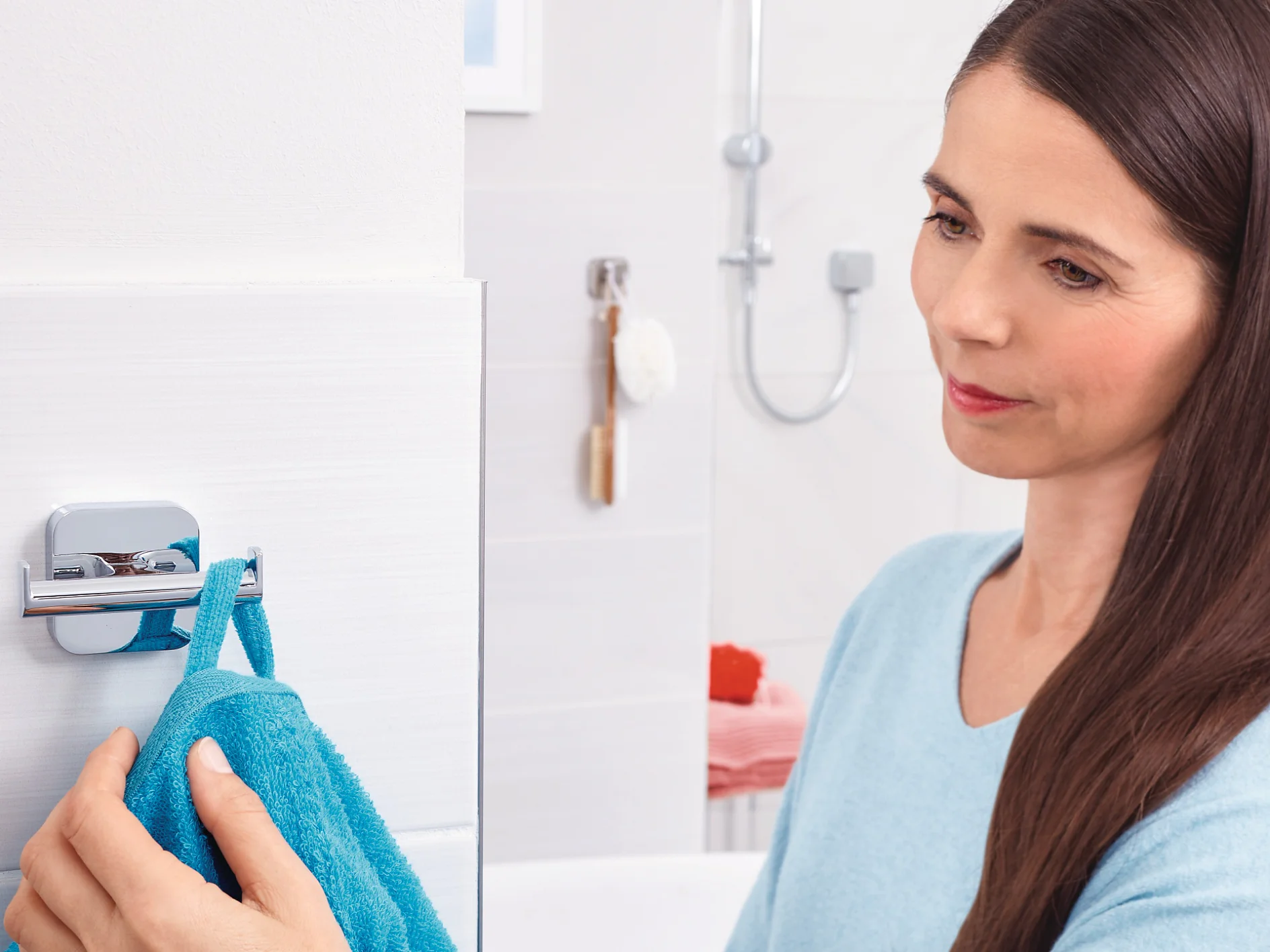 Product description
Elegant and extraordinary with its smoothed square design, the tesa® Elegaant double hook is an unmissable accessory. Not only is it space-saving with the hooks offering a secure hold for two towels, but it is made from solid metal and has a high gloss chrome finish that is also waterproof and stainless. A powerful adhesive solution is used for application, making drilling unnecessary. The adhesive takes 12 hours to dry. No walls or tiles are harmed. At any time, the hook can be removed quickly. It can also be remounted easily in a different spot with a new adapter BK20. tesa.Power.Kit Glue: Warning! Hazardous respirable dust may be formed when used. Do not breathe dust.
Sturdy double hook, including the

tesa

® Power.Kit technology (the all-in-one adhesive mounting solution)

Extraordinary design, smoothed angular style, high gloss chrome-plated metal, smoothed square wall plate

Reliable hold, waterproof, guaranteed stainless

Works on tiles, metal, natural stone, marble, concrete, wood, glass and many types of plastic

Does not work on wallpaper, stucco and other surfaces with non-stick coating
Can be removed without a trace or surface damage. Reusable with adapter BK20

Clean, effortless application without drilling

Product dimensions: 50mm x 80mm x 43mm