tesa

® DELUXXE Toilet Paper Holder, Self-Adhesive, Chromed Metal

The tesa® Deluxxe toilet paper holder is mounted without drilling, thanks to the adhesive technology. It can be removed without a trace and reused at any time. Your wall remains undamaged. With its tasteful design, it is a visual highlight enhancing any bathroom or guest rest room.
Sturdy toilet paper holder without lid, including the

tesa

® Power.Kit technology (the all-in-one adhesive mounting solution)

Exquisite design, rectangular style, high gloss chrome-plated metal, square wall plate

Reliable hold, waterproof, guaranteed stainless, soft close function
All Product details
Product details
Safety Instructions
User reviews
FAQs
Product details
Product description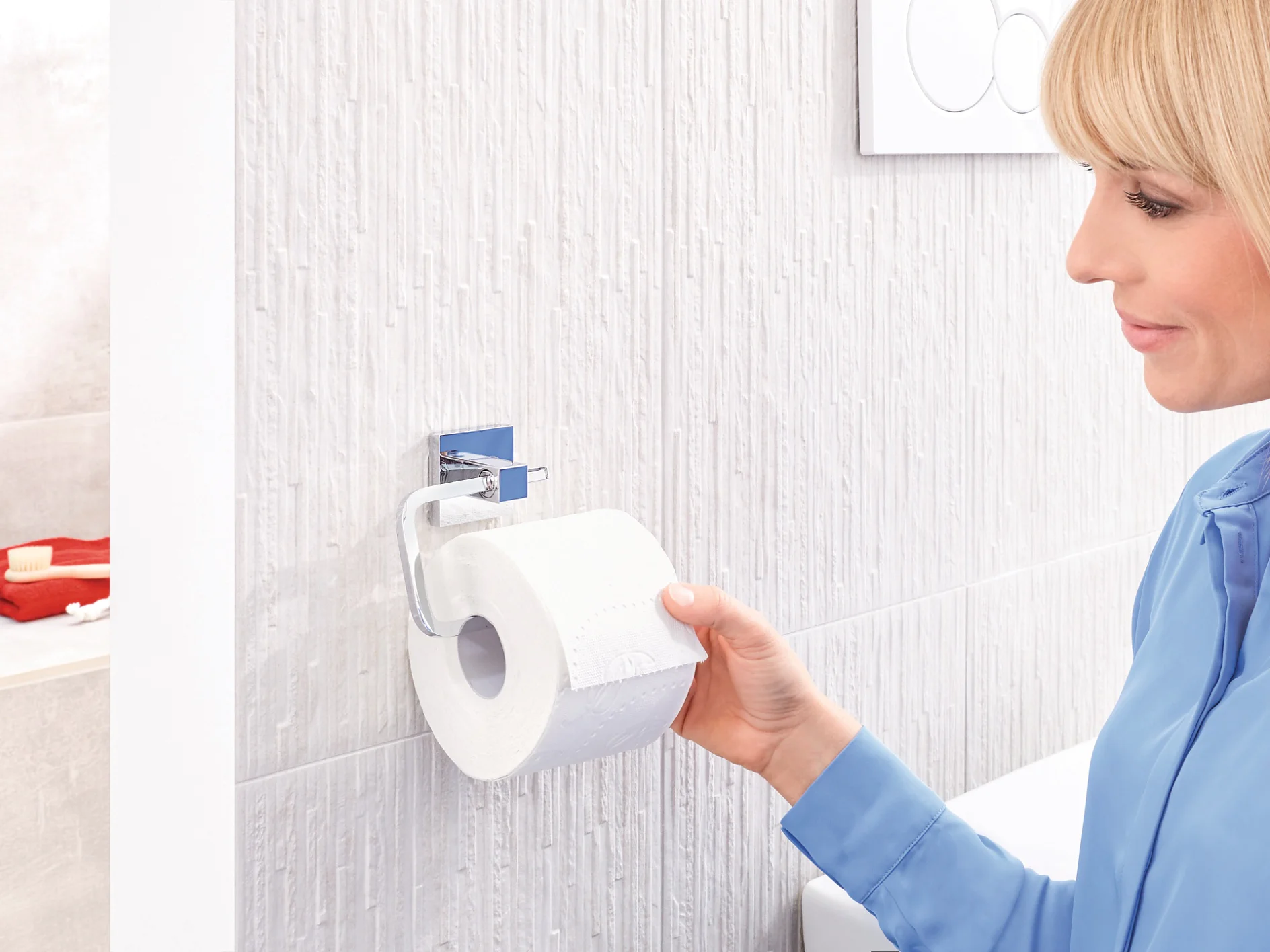 Product description
The tesa® Deluxxe toilet paper holder without lid is all-around impressive. Thanks to the innovative tesa® Power.Kit technology, it can be attached without drilling. A clean, comfortable solution that also protects your wall from unnecessary damage. The combination of gleaming surfaces and artful shapes, it provides an admirable design with modern elegance. The high quality of the materials ensures its longevity. You can take down the toilet paper holder without a trace at any time and even reuse it with a new mounting adapter (BK20). tesa.Power.Kit Glue: Warning! Hazardous respirable dust may be formed when used. Do not breathe dust.
Sturdy toilet paper holder without lid, including the

tesa

® Power.Kit technology (the all-in-one adhesive mounting solution)

Exquisite design, rectangular style, high gloss chrome-plated metal, square wall plate

Reliable hold, waterproof, guaranteed stainless, soft close function

Suitable for tiles, metal, natural stone, marble, concrete, wood, glass and many types of plastic

Not suitable for wallpaper, stucco and other surfaces with non-stick coating
Removable without a trace, no surface damage, can be reused with adapter BK20

Simple, clean mounting without drilling

Product dimensions: 99mm x 160mm x 45mm