tesa

® DELUXXE soap dispenser, self-adhesive, chromed metal, modern design

Gorgeous and stylish, with opal glass and chromed metal, the tesa® Deluxxe soap dispenser should be by every sink. No drilling is needed to attach it, since adhesive is used instead. No surfaces suffer damage. The dispenser can be removed easily and moved to a different location with a new adapter BK20.

Robust soap dispenser, including the

tesa

® Power.Kit technology (the all-in-one adhesive mounting solution)

Exquisite design, angular style, high gloss chrome-plated metal, square wall plate, frosted glass

Secure hold, waterproof, guaranteed stainless
All Product details
Product details
Safety Instructions
User reviews
FAQs
Product details
Product description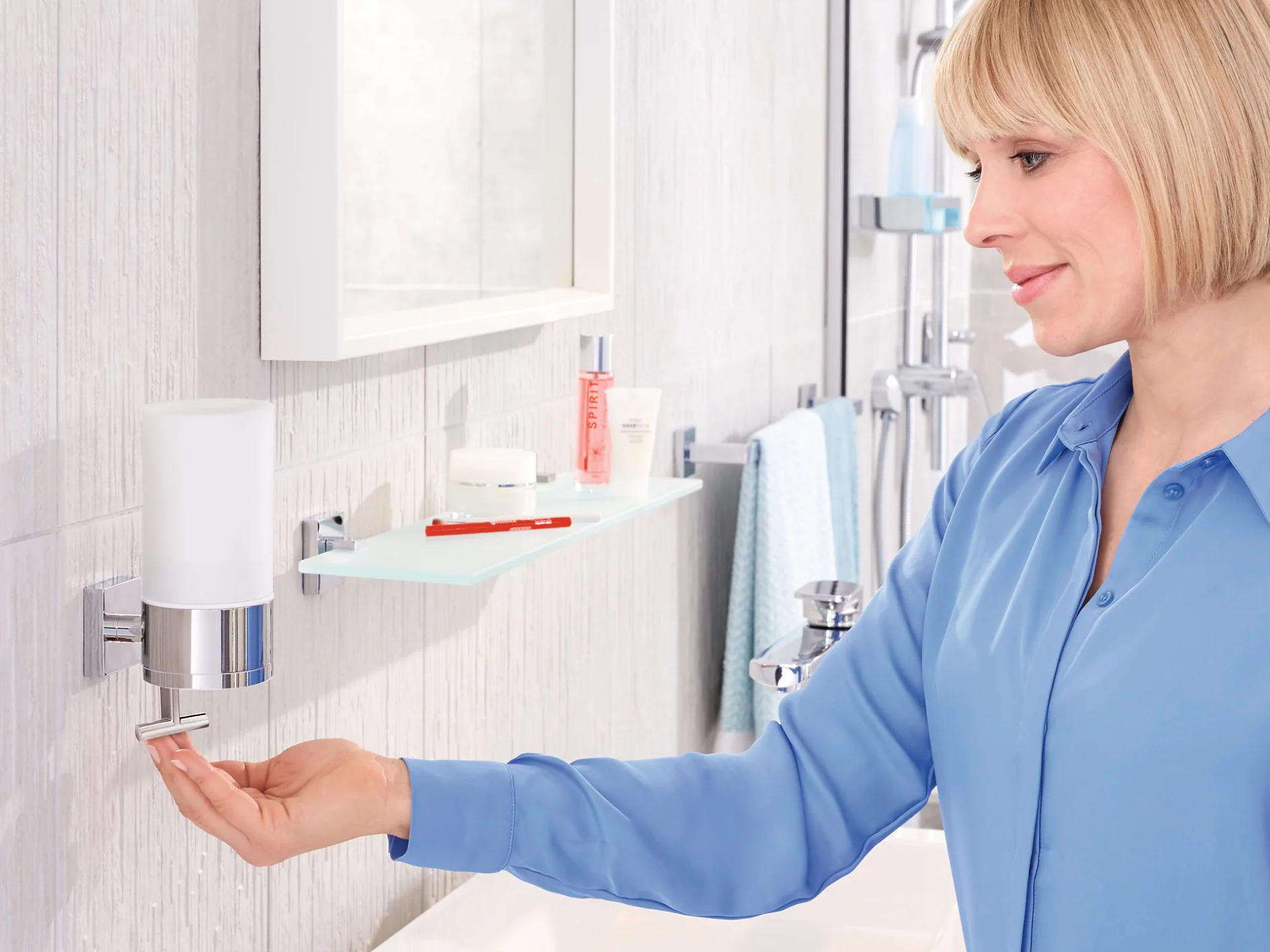 Product description
Liquid soap has a charming, luxurious home in the angular tesa® Deluxxe soap dispenser. The opal glass of the container provides a stylish contrast to the glossy chrome of the metal bracket. Furthermore, with the pullable pump handle at the bottom, only one hand is needed to extract soap. The dispenser is mounted with an adhesive solution that takes 12 hours to dry. No drilling is necessary, keeping walls and tiles intact. Whenever you like, you can quickly take the dispenser off, without a trace. Moreover, it's simple to move it to another spot with a new adapter BK20. tesa.Power.Kit Glue: Warning! Hazardous respirable dust may be formed when used. Do not breathe dust.
Robust soap dispenser, including the

tesa

® Power.Kit technology (the all-in-one adhesive mounting solution)

Exquisite design, angular style, high gloss chrome-plated metal, square wall plate, frosted glass

Secure hold, waterproof, guaranteed stainless

Suitable for tiles, metal, natural stone, marble, concrete, wood, glass and many types of plastic

Not suitable for wallpaper, stucco and other surfaces with non-stick coating
Can be removed without surface damage and moved elsewhere with adapter BK20

Effortless, clean application without drilling

Holds 230ml

Easy cleaning and refillable

Single hand use, pull function

Product dimensions: 192mm x 73mm x 115mm