tesa

® DELUXXE glass shelf, self-adhesive, chromed metal, exquisite design

The tasteful tesa® Deluxxe glass shelf is a delightfully angular storage solution. It is attached with an adhesive solution rather than drilling, thus keeping surfaces intact. At any time, you can take it down without a trace remaining. With a new adapter BK20-2, you can also remount it in a new position.
Sturdy glass shelf, including the

tesa

® Power.Kit technology (the all-in-one adhesive mounting solution)

Modern design, angular style, high gloss chrome-plated metal, square wall plates, white frosted glass

Reliable hold, waterproof, guaranteed stainless
All Product details
Product details
Safety Instructions
User reviews
FAQs
Product details
Product description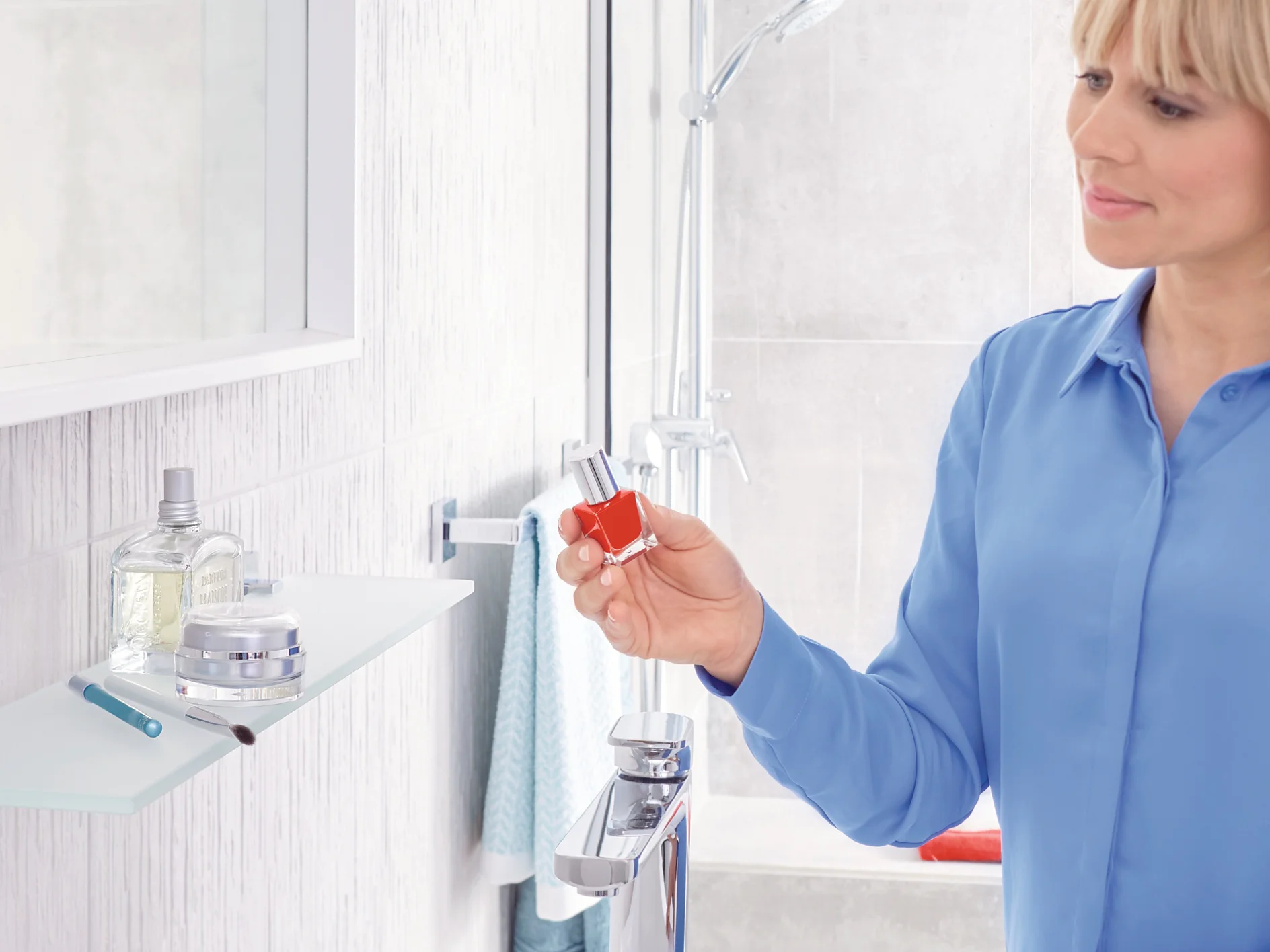 Product description
Keep your toiletries in style with the angular tesa® Deluxxe glass shelf! High-quality materials ensure that its beauty will stay in your bathroom for a long time. No need to worry about accidental cuts because the smoothed edges of the white frosted glass make handling comfortable and safe. Equally safe is the attachment since the shelf uses a formidable adhesive solution for mounting. No drilling is needed, keeping walls and tiles as they were. The adhesive requires 12 hours to set. The shelf can be removed without a trace at any time and reused in a different spot with a new adapter BK20-2. tesa.Power.Kit Glue: Warning! Hazardous respirable dust may be formed when used. Do not breathe dust.
Sturdy glass shelf, including the

tesa

® Power.Kit technology (the all-in-one adhesive mounting solution)

Modern design, angular style, high gloss chrome-plated metal, square wall plates, white frosted glass

Reliable hold, waterproof, guaranteed stainless

Suitable for tiles, metal, natural stone, marble, concrete, wood, glass and many types of plastic

Not suitable for wallpaper, stucco and other surfaces with non-stick coating
Can be taken off without surface damage and shifted elsewhere with adapter BK20-2

Simple, clean attachment without drilling

Product dimensions: 50mm x 600mm x 118mm