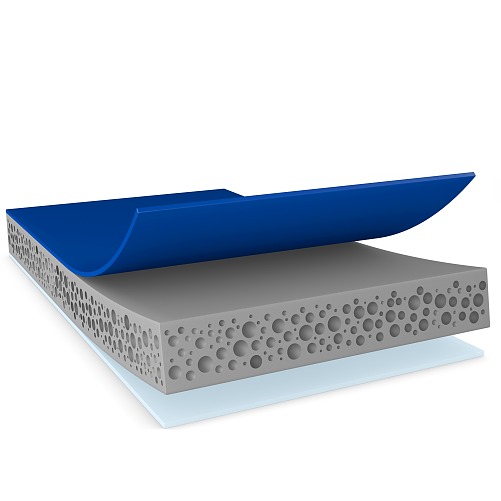 ---
---
Product description
tesa
®
ACX
plus
77711 is a 1.1 mm acrylic foam tape with an unique double-layer asymmetrically designed product, coated on one side with LSE adhesive. It can help eliminate the primer in the process. Its high-performance LSE adhesive creates an efficient and secure bond to typical automotive attachment parts made of LSE (like PP and PP/EPDM) and MSE (like ABS) plastics without primer.
In addition, our product has excellent adhesive properties when it comes to easy-to-bond OEM clear coats. Thanks to its viscoelastic acrylic foam core,
tesa
®
ACX
plus
77711 has the ability to absorb and dissipate dynamic and static loads.
Also available in 0.8 mm and 1.5 mm formats
Main features
High performance on LSE plastics without primer
Superior peel adhesion on PP substrates even at an application temperature as low as 5°C
Excellent bonding level right after application
Excellent bonding stability at a wider range of temperatures
Efficient and robust application
Viscoelastic acrylic foam core to compensate for different thermal elongation of bonded parts
Outstanding wet-out property
High humidity and UV resistance
LSE: low surface energy
MSE: medium surface energy
Main applications
tesa
®
ACX
plus
77711 Primerless Line is suitable for a wide range of exterior attachment part mounting applications. To ensure the highest performance possible, our aim is to fully understand your application (including the substrates involved) in order to provide the right product recommendation.
Example applications are:
•   Body side moldings and decorative trims
•   Emblems
•   Spoilers
•   Antennas
•   Pillar appliqués
Adhesion properties
Adhesion to ABS (after 3 days)
Adhesion to PP (after 3 days)
Adhesion to PP (initial, 1 min)
Adhesion to Steel (covered side, after 3 days)
Adhesion to ABS (covered side, initial)
Adhesion to Steel (after 3 days)
Adhesion to Steel (initial, 1 min)
Adhesion to Steel (covered side, initial)
Adhesion to ABS (covered side, after 3 days)
Adhesion to ABS (initial, 1 min)
Rating properties
Static shear resistance at 90°C
Additional Info
Static shear resistance tested with 25 mm x 25 mm tape on steel, 200g weight
PV 15 = royal blue siliconized HDPE film liner
Temperature range: values are load dependent
tesa® products prove their impressive quality day in, day out in demanding conditions and are regularly subjected to strict controls. All technical information and data above mentioned are provided to the best of our knowledge on the basis of our practical experience. They shall be considered as average values and are not appropriate for a specification. Therefore tesa SE can make no warranties, expressed or implied, including, but not limited to any implied warranty of merchantability or fitness for a particular purpose. The user is responsible for determining whether the tesa® product is fit for a particular purpose and suitable for the user's method of application. If you are in any doubt, our technical staff will be glad to support you.