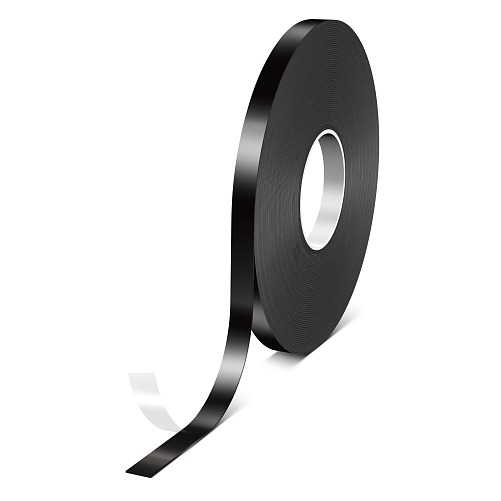 ---
---
Product description
tesa
®
92108 HiP is a deep black double-sided foam tape for mounting interior plastic parts. This single-layer designed product provides its high performance on LSE plastics right after application without any surface pre-treatment. Its high-performance LSE adhesive creates an outstanding and secure bond to typical automotive attachment parts made of LSE (like PP and PP/EPDM) and MSE (like ABS, PA, or PC).
tesa
®
92108 HiP shows low VOC properties to meet automotive interior requirements and assures a reliable bond in the temperature range from -30°C to 100°C that is requested for interior applications.
tesa
®
92108 HiP optimally absorbs and compensates dynamic and static stress. Its pull force resistance and shear force resistance even on demanding LSE surfaces is outstanding and provides a secure bond in changing temperature conditions.
tesa
®
92108 HiP is suitable for sealing requirements in terms of air and humidity permeability.
tesa
®
92108 HiP is also available in 0.5 mm and 1.1 mm thicknesses.  
Main features:
High initial bonding performance on LSE plastics (e.g.: PP) without any pre-treatment
Superior bonding performance right after application
Low VOC (acc. GB 27630) – no critical substances detectable
Deep black color for enhanced appearance and design flexibility
High humidity and age resistance
Very good sealing properties
Efficient and robust application
LSE: Low surface energy
MSE: Medium surface energy
Main applications
tesa
®
92108 HiP is suitable for a wide range of plastic to plastic applications. To ensure the highest performance possible, our aim is to fully understand your application (including the substrates involved) in order to provide the right product recommendation.
Example applications are:
Mounting of plastics in interior systems (e.g.: inner doors, cockpits, steering wheels, consoles and decorative trims, etc.)
Mounting of plastic attachment parts in interior and exterior (e.g.: sensors, cameras, emblems and lightweight attachments, etc.)
Mounting of plastics in automotive electronics modules (e.g.: display in comfort and infotainment systems, ambient lighting, etc.)
Adhesion properties
Adhesion to Steel (initial)
Pull force z-direction ABS (3 days)
Adhesion to ABS (after 3 days)
Adhesion to PP (after 3 days)
Adhesion to ABS (initial)
Pull force z-direction PP (initial)
Pull force z-direction PP (3 days)
Adhesion to Steel (after 3 days)
Pull force z-direction ABS (initial)
Additional Info
According to VDA278 analysis, our
tesa
®
92108 HiP tape does not contain any single substances restricted by the drafted GB
regulations (China) or the indoor concentration guideline by Health, Labour and Welfare Ministry (Japan).
tesa® products prove their impressive quality day in, day out in demanding conditions and are regularly subjected to strict controls. All technical information and data above mentioned are provided to the best of our knowledge on the basis of our practical experience. They shall be considered as average values and are not appropriate for a specification. Therefore tesa SE can make no warranties, expressed or implied, including, but not limited to any implied warranty of merchantability or fitness for a particular purpose. The user is responsible for determining whether the tesa® product is fit for a particular purpose and suitable for the user's method of application. If you are in any doubt, our technical staff will be glad to support you.