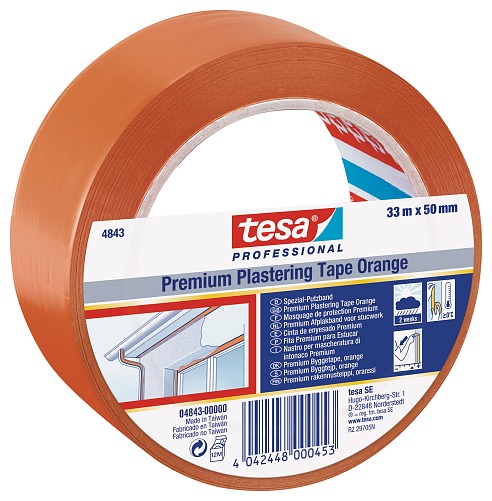 ---
---
Product description
tesa
®
4843 is a specially formulated plasticised PVC tape with a flat backing, low unwinding force and high adhesion.
Having a soft modified and thick rubber adhesive coating
tesa
®
4843 is suitable for most rough surfaces.
The tape can withstand humidity, weak alkaline solutions, acids and many other chemicals.
Once applied it can be easily removed even after 2 weeks of outdoor application without leaving any residue.
Main applications
tesa
®
4843 is suitable for masking during plastering, painting, gypsum, masonry and stucco work. It protects the surfaces of sensitive profiles and facings against dirt and damage through manufacturing tools and material. It is also suitable for the sealing of bags, heavy duty wrapping and other DIY applications. The tape can be used for temperatures above 0°C.
Technical properties
Temperature resistance short term
Rating properties
Suitable for rough surfaces
tesa® products prove their impressive quality day in, day out in demanding conditions and are regularly subjected to strict controls. All technical information and data above mentioned are provided to the best of our knowledge on the basis of our practical experience. They shall be considered as average values and are not appropriate for a specification. Therefore tesa SE can make no warranties, expressed or implied, including, but not limited to any implied warranty of merchantability or fitness for a particular purpose. The user is responsible for determining whether the tesa® product is fit for a particular purpose and suitable for the user's method of application. If you are in any doubt, our technical staff will be glad to support you.