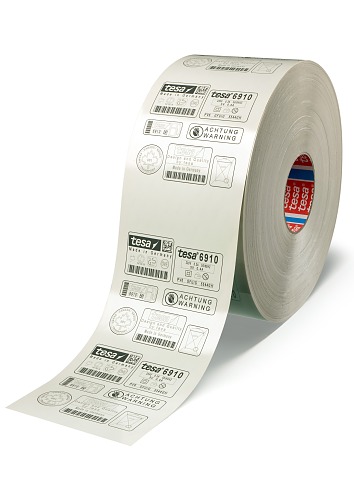 ---
---
Product description
tesa
®
6910 is a high-performance polyolefin laser-film. Marking and cutting are achieved by laser in one step, which makes it possible to realize any desirable label variation and format using only one material. The backing is resistant against chemicals, abrasion, temperature and ageing. The adhesive system consists of a resin modified acrylic, suitable even for low energy surfaces.
This high performance product is used as a data carrier for intelligent process steering and as an identification label. Marking is achieved by laser-activated color pigments embedded in the backing. The use of a high-speed laser enables a considerably quick marking speed up to 4000mm/ sec.
Available in white color.
Main applications
Precise and resistant marking
Very resistant to heat, abrasion and chemicals
Manipulation leaves visible trace
Flexible formatting and label design: marking and cutting by the laser
Efficient: replaces a multitude of pre-made labels
Just-in-time production reduces storage needs
Technical properties
Peel off force from liner
Rating properties
Temperature resistance short term
Temperature resistance long term
Storage conditions
23°C, 50% RH, stored in original box
Additional Info
Standard Dimensions:
Width: 100mm and 120mm, length: 300m

tesa® products prove their impressive quality day in, day out in demanding conditions and are regularly subjected to strict controls. All technical information and data above mentioned are provided to the best of our knowledge on the basis of our practical experience. They shall be considered as average values and are not appropriate for a specification. Therefore tesa SE can make no warranties, expressed or implied, including, but not limited to any implied warranty of merchantability or fitness for a particular purpose. The user is responsible for determining whether the tesa® product is fit for a particular purpose and suitable for the user's method of application. If you are in any doubt, our technical staff will be glad to support you.