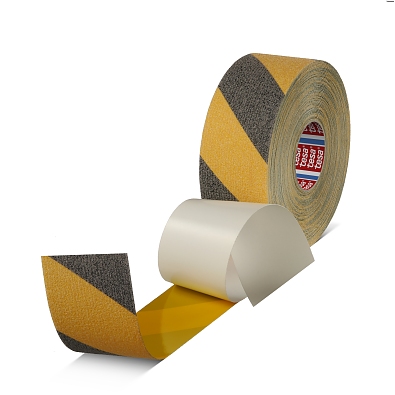 ---
---
Product description
The application area for
tesa
®
Anti Slip Professional range is everywhere safe footing is required. Anti Slip yellow & black is the ideal protection to prevent from skidding and therefore helps to avoid accidents in the job related. Very good adhesion of the product is suitable for demanding surfaces such as factory floors, industry areas etc. The strong and durable adhesive coating secures a high Anti Slip effect of up to 1- 2 years in normal use areas. The Anti Slip tapes are hand tearable and no shrinkage occurs after application.
Main applications
Indoor and outdoor applications 1 Applications in which a secure grip underfoot is required 1 Fluorescent (

tesa

® 60953): stays bright for a long period for safety and warning purposes in dark rooms 1 Transparent (

tesa

® 60952): make valuable surfaces such as wooden stairs, for example, safe unobtrusively 1 Black-yellow (

tesa

® 60951): marking of very slippery surfaces
Technical properties
Backing material
PVC film coated with mineral particles
Rating properties
Removability after 14 days (23°C)
Temperature resistance long term
tesa® products prove their impressive quality day in, day out in demanding conditions and are regularly subjected to strict controls. All technical information and data above mentioned are provided to the best of our knowledge on the basis of our practical experience. They shall be considered as average values and are not appropriate for a specification. Therefore tesa SE can make no warranties, expressed or implied, including, but not limited to any implied warranty of merchantability or fitness for a particular purpose. The user is responsible for determining whether the tesa® product is fit for a particular purpose and suitable for the user's method of application. If you are in any doubt, our technical staff will be glad to support you.