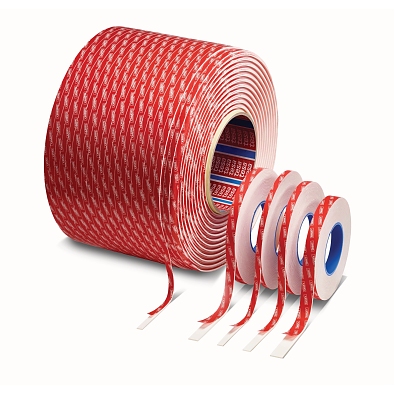 ---
---
Product description
InvisiBond Safe Lift (
tesa
®
65620) is a double-sided PE foam tape equipped with a versatile specialty adhesive. The product enables to securely bond on sensitive surfaces and allows for residue free removability. Our double-sided PE foam tapes are primarily characterized by its ability to compensate irregular surfaces, enabling high bonding power even on rough surfaces and an excellent shock absorption.
The main disadvantage of conventional foam tapes becomes apparent when they must be removed. Especially no sensitive surfaces such as painted walls damage becomes apparent. Our new solution InvisiBond Safe Lift (
tesa
®
65620) allows for safe bonding on many sensitive surfaces with a proven specialty adhesive. Removal which is often deemed challenging due to damaging the surfaces is now possible thanks to our unique product design. During removal the PE-foam is cohesively splitting leaving tape residues on both sides of the bonded products. These residues can be easily pulled off without damaging the surfaces.
Additionally, the liner-side adhesive, being dedicated to the end-user, is specifically chose for demanding surfaces such as rough wall papers or paints.
InvisiBond Safe Lift (
tesa
®
65620) features:
Proven specialty adhesive for outstanding bond performance and the capability to easily being removed
Versatile PE-foam backing to compensate rough surfaces
Increased adhesive coating weight on liner-side for safe end-user application
Main applications
InvisiBond Safe Lift (
tesa
®
65620) is especially suitable for customers that want to remove bonded products from sensitive surfaces without damaging these surfaces. Example applications include but are not limited to:
Bonding of decorative elements on walls
Sound absorbers in offices
Temporary signs
Adhesion properties
Adhesion to Steel (initial)
Adhesion to PE (after 14 days)
Adhesion to Steel (after 14 days)
Rating properties
Removability after 14 days (23°C)
Static shear resistance at 23°C
Temperature resistance long term
Static shear resistance at 40°C
Temperature resistance short term
Additional Info
Liner variants:
PV9 red paper liner with white

tesa

branding
tesa® products prove their impressive quality day in, day out in demanding conditions and are regularly subjected to strict controls. All technical information and data above mentioned are provided to the best of our knowledge on the basis of our practical experience. They shall be considered as average values and are not appropriate for a specification. Therefore tesa SE can make no warranties, expressed or implied, including, but not limited to any implied warranty of merchantability or fitness for a particular purpose. The user is responsible for determining whether the tesa® product is fit for a particular purpose and suitable for the user's method of application. If you are in any doubt, our technical staff will be glad to support you.