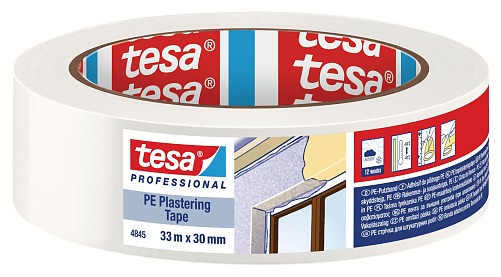 ---
---
Product description
A powerful protection tape for long-term application that keeps surfaces safe from dirt or damage. The newly developed PE backing material is eco-friendly yet provides robust protection. For up to 12 weeks, UV has no effect on the tape, and the acrylic adhesive maintains its strong grip throughout. Moreover, the
tesa
®
PE Plastering Tape works in a wide temperature range and can resist extreme cold or heat. Not only can it be applied within a temperature range from -15 °C to + 30 °C, but the white PE tape stays securely in place at a freezing -40 °C as well as at a scorching +60 °C. From the Arctic to the desert, this is the right choice for any outdoor plastering work. In addition to that, the tape can be easily unwound. The tape also maintains its shape when pulled and can therefore be safely applied as intended. An indispensable asset at the construction site.
Main features
New PE backing material that's guaranteed eco-friendly 1 Ready for use from -15 °C to +30 °C 1 Withstands a huge temperature range from -40 °C to +60 °C 1 UV light is no problem; residue-free resistance for up to 12 weeks 1 The tape is easy to unwind and firmly maintains its shape 1 Tape composition: backing material = PE, adhesive = acrylic 1 Available sizes: 33m:30mm, 33m:50mm
Rating properties
Suitable for sensitive surfaces
Suitable for rough surfaces
tesa® products prove their impressive quality day in, day out in demanding conditions and are regularly subjected to strict controls. All technical information and data above mentioned are provided to the best of our knowledge on the basis of our practical experience. They shall be considered as average values and are not appropriate for a specification. Therefore tesa SE can make no warranties, expressed or implied, including, but not limited to any implied warranty of merchantability or fitness for a particular purpose. The user is responsible for determining whether the tesa® product is fit for a particular purpose and suitable for the user's method of application. If you are in any doubt, our technical staff will be glad to support you.